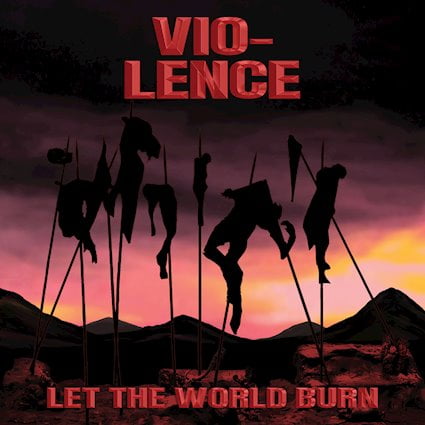 How about a thrash metal supergroup? Well here's one for you as legendary Bay Area band Vio -Lence return with a bang, courtesy of their comeback EP Let The World Burn, recently released via Metal Blade Records.
Formed in Oakland, California in 1985 they split in 1993 meaning it's almost three decades since releasing new music and what a comeback it is with five major rager songs on the EP. Two members remain from the original line up as Phil Demmel on guitar and Perry Strickland on drums are joined by Sean Killian on vocals, Bobby Gustafson on guitar and Christian Olde Wolbers on bass guitar.
When I saw the line up on the press release I knew they would be good, point proven by opening track 'Flesh From Bone' as a juddering intro riff and rib rattling bass guitar heads off into thrash metal heaven. It gallops along on kick drum fury as Sean vents his anger with lung busting ferocity and when the twin lead solos arrive it's sheer nirvana!
'Screaming Always' is a slaughtering slammer to ignite any pit right from the first razor sharp riff. Twin guitar riffing ups the intensity as they intertwine towards a mid paced chug and a granite heavy riffed outro.
Godzilla stomped drum patterns pin 'Upon Their Cross' to the ground. Riffs are hypnotic and pick you up and there is no release until this crushing headbanger draws to a close on twin lead mayhem.
'Gato Negro' is another thrilling thrasher in their ever growing arsenal of bangers as another EP is due for the end of 2022. It's a kick drum driven cavalcade as the dizzying time changes are as fast as an out of control rollercoaster ride.
The EP ends on a high as the title track is a fast and furious encore as riffs fly off the fretboards at lightning speed and Sean delivers his strongest vocal with a spotlight stealing performance that includes a chilling spoken word piece that reflects current World affairs.
Purchase links to the EP and other band info are here :- https://www.metalblade.com/violence/ I https://www.facebook.com/vioofficialpage I https://www.instagram.com/vio_lence_band/ I
Let The World Burn EP track listing :-
Flesh From Bone.
Screaming Always.
Upon Their Cross.
Gato Negro.
Let The World Burn.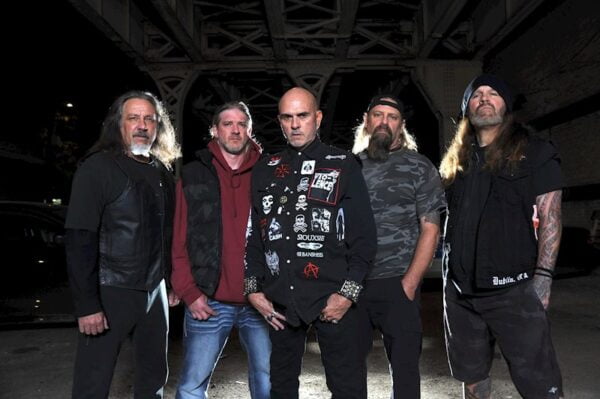 Vio-Lence stoke up the fires from Hell with their comeback EP Let The World Burn.