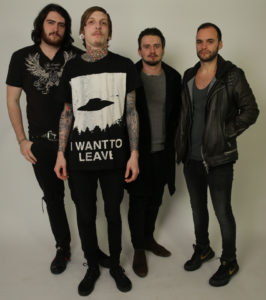 SAINT APACHE are ripping it up throughout the UK. The energetic heavy rock beasts release their new EP 'Wolf Machine' on 21st July, we asked the band to introduce themselves:
Who is in the band and who plays what?
Thom Meredith- Vocals, Leo- Lead/Rhythm Guitar, Luis T- Bass, Adam Oarton- Drums.
How and when did the band form?
We formed in the fully formed in the Spring of 2015. Leo and Thom used to play in a band together in school so when we were looking for a new singer he was on the radar. Although Thom did play drums in the school band! Leo, Adam and Luis have been playing together for many years before Saint Apache in a previous band. When the singer left that band we decided to revamp and freshen everything up with a new name, new style of music and a new singer. We hail from Eastbourne- the sunshine coast.
When and how did the band really start gelling and solidifying?
After Thom joined us in the spring 2015 we had a couple of festival slots to work towards and get ready for that summer. We were writing lots of music and jamming in the studio and everything fell into place. We recorded our debut EP in October of that year which we released in Jan 2016 which we then played as much as we could and wherever we could on the back of that release.
What are your musical influences?
Musically we are each influenced by a variety of bands like Rage Against The Machine, Guns N' Roses, Sex Pistols, Everytime i Die, Royal Blood, Buckcherry and Queens Of The Stone Age.
How far back does your history with each other (the band members) extend? are you friends from school or any family relations?
Leo, Luis and Adam have been playing together for a number of years now. First in a previous band called Glam Ryze and now Saint Apache. Leo and Thom used to play in band in school together in a band called No Idea where Thom was a drummer at that point and we wore black nail varnish and gelled up hair! So we all go way back in different ways.
In your opinion, how is your band different from all the other bands out there?
I think we definitely bring something different to the table. There's not a political band out there at the moment either. So with the lyrics lending themselves to that angle and the music being an in-your-face modern style with a punky yet classic element to it we believe we stand out as different.
If a deaf person were to ask you to describe the sound of your music, how would you describe it?
Like a train has come off the tracks and has hit you full on!!
Where can we find your social media sites?
https://www.facebook.com/saintapache
https://www.instagram.com/saintapache
https://www.youtube.com/saintapache
https://www.twitter.com/saintapach