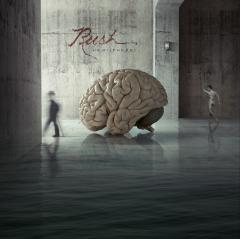 Hemispheres, the sixth studio album by Canadian trio Rush celebrates its 40th anniversary with four different formats, one of which is this 2xCD deluxe edition. The first CD is a remaster of the album and the second CD features a live set from the Pink Pop festival on the 4th June 1979 and a live '2112' from Arizona on the 20th November 1978.
Still my favourite of theirs after all these years its timeless majesty never fails to impress even though they had problems in the studio with the songwriting and vocalist Geddy Lees helium pitched vocals. Side one of the original vinyl is taken up by the lengthy 'Cygnus X-1 Book II : Hemispheres' that perfectly sums up their breathtaking brilliance as Geddy, guitarist Alex Lifeson and drummer Neil Peart take you on a rollercoaster ride of heavy progressive rock. The meandering riffing of  'Circumstances' snaps at your ankles as a whimsical midsection of almost baroque passages add a touch of light and shade.
'The Trees' touches on power struggles as a quaint acoustic intro leads to a beefy main riff backed by joyously entertaining lyrics as Geddy delivers some hefty Rickenbacker bass guitar licks midway. The album ends on the peerless instrumental 'La Villa Strangiato', as the calm before the storm intro of synths segues into a showcase guitar workout as Neil rages along with a showstopping drum display.
The Holland live set begins with a raucous 'A Passage To Bangkok' featuring one of Alex's heaviest riffs as massive crowd cheers heralds a storming 'Xanadu', another lengthy epic that does not outstay its welcome as its twelve minute duration goes far too soon. 'The Trees' highlights Geddys extraordinary vocal range as he hits higher notes than on the studio version. A rarely played 'Cygnus X-1 Book II : Hemispheres – The Sphere A Kind Of Dream' is a brief, haunting intro to a beautiful 'Closer To The Heart' that shows the band at the top of their game as Geddy's synths are as high in the mix as Alex's solos. '
A monstrous 'La Villa Strangiato' is jammed out longer than its studio counterpart and a short, sharp 'In The Mood' from their self titled debut album sees them in full on rock mode from start to finish. Neil is given a chance to shine with a five minute kit rattling solo as he covers every inch of it backed by some lightning speed footwork and they return to batter the crowd with a powerful 'Something For Nothing'. The best is saved till last though with '2112' and this performance is rawer than that from the live album All The Worlds A Stage from 1976 purely for Geddy's opening scream in the Overture segment alone.
Hemispheres has new cover art by original artist Hugh Syme and has been released by UMC – Mercury.
A milestone album with added live material to make it an essential purchase.