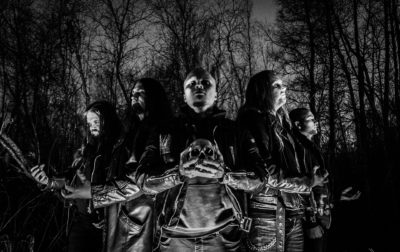 Finland's finest Doom/Thrashers Corpsessed release their second full length album 'Impetus of Death'. The first 'Abysmal Thresholds' was released back in 2014 and was well received. However, with 'Impetus Of Death' Corpsessed have tuned their sound somewhat differently, in that it now sounds cleaner and more 'live'. I prefer this in any album. If a band can pull off a 'live' studio recording, then you know exactly what your going to get when you go to see them in concert.
Title track opener and 'Sortilege' are pure intense thrash. Tommy Vance said on Radio 1 back in 1992 after Slayer had played Donington that to play this type of music you have to be as fit as an athlete and as precise as a fighter pilot. I will never forget these words and, what is just thrash to some people, is treasure to others. This is the case with Corpsessed. You cannot get Thrash/Death Metal any more intense than this. Imagine this album to be a dark world that you get sucked into whilst listening to it.
The guitar riff and work on this album is as morbid and as black as you would wish to hear. Easily heard on 'Endless Pains Of Dust'. What's different about this album is the fact that most of what we hear is 'in a way' predictable (in a Thrash sense), but it still works and makes perfect sense to the point that everything within each song is where it needs to be for the desired impact. It keeps you interacted with the music.
All eight tracks on this album bear the same backbone of intense Thrash. They all have the beautiful speed changes I crave. Especially 'Paroxysmal'. There is an almighty speed shift towards the end of this track that is like something I have never heard before. Pure Bliss. The intro on 'Forlorn Burial' is an intense slow trot which keep you waiting for that moment when we hit the next stage of the song. When it comes, it hits you like a steam train. Stunning stuff.
Listening to Corpsessed takes you into a dark, dark world and I'll be honest in the fact that this is a massive statement from these guys.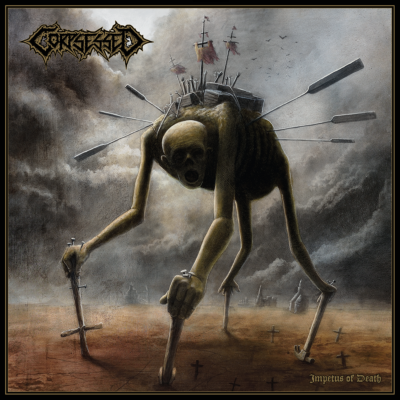 Track Listing:
1 – Impetus Of The Dead
2 – Sortilege
3 – Endless Plains Of Dust
4 – Graveborne
5 – Paroxysmal
6 – Forlorn Burial
7 – Begetter Of Doom
8 – Starless Event Horizon
Line-up:
Niko Matilanien – Vocals (Lead)
Matti Makela – Vocals (Backing)
Jyri Lustig – Guitars
Tuomas Kulmala – Bass
Jussi-Pekka Manner – Drums
Links:
Stunningly beautiful Thrash / Death Metal...….The Finland way.