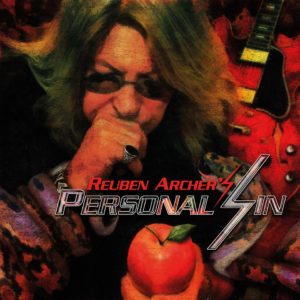 Album of the year and it is only August? You betcha and I'd even put my house on it (even tho it is rented). Reuben Archer,currently handling lead vocals with Stampede has taken some time out to record a solo album called Personal Sin with fellow Stampede member,guitarist Rob Wolverson who wrote and produced the album with Reuben. Personal Sin will be available via Toxic Arrow Records on August 19th 2013 and contains 12 quality rock songs full of muscle and melody along with a cover of Shakin All Over by Johnny Kidd And The Pirates.
To assist with the recording of Personal Sin,Reuben was joined by various members of Y&T,Saxon,Status Quo,Whitesnake, Thunder, UFO, Climax Blues Band, MSG, Angelwitch, Lautrec to name but a few. Where most men of Reuben's age are getting around with a bus pass,Reuben chooses to use a tour pass and his career fronting Lautrec,Wild Horses and Stampede have stood him in good stead for the composition of these songs. It is hard to review an album when you play the opening track,then repeat it and then repeat it again but Bulletproof is such a good song,one listen is just not enough. It opens with Reuben singing the opening part of the chorus and your hooked on the hook immediately. Lush harmonies come in and the vocal is joined by stabbing guitar riffs as a bluesy guitar passage midway makes away for the 1st of many huge choruses on Personal Sin and has radio airplay written all over it.
So onto the 2nd number Play My Rock N Roll which is part of a dbl A side digital single release on July 22nd along with Lately,the video of which can be seen on youtube. A raunchy guitar intro is joined by a huge guitar riff and yet another big vocal hook bellowed out by Reuben with bass duties handled by Rocky Newton (MSG and Lionheart). A refrain of "play my rock n roll" leads into the chorus sung until the end of the song. I was trying to avoid a track by track listing but its hard to skip past any so the title track is next with a nifty slide guitar intro over a heavy but instantly memorable commercial riff and Personal Sin includes a shimmering guitar solo by Dave Meniketti (Y&T) with bass guitar from John "Rhino" Edwards (Status Quo). The album contains some quirky lyrics and a prime example on this number is "I got 1 shot in the chamber,1 shot in the breech,2 shots left,I got 1 for us each". After a rock boogie intro 4th track Lately morphs into a bluesy shuffle with neat jazzy guitar chords. A rip roaring guitar solo midway is followed by a classic Whitesnake style romp to end the song with Harry James (Thunder) on drums and Kevin Riddles (Tytan and Angelwitch) on bass guitar.
Song of the album for me is next,a bonafide hairs up on the back of the neck ballad called Time On My Hands. Reuben's passionate vocal proves you have to have a fair set of pipes to handle a song like this and is backed by a sparse guitar over a gentle piano and synths and it would take the coldest of hearts not to be drawn in by this number. It brings to mind a more laid back Love To Love by UFO as a guitar solo cuts through like a knife at the 3 minute mark pushing the song to a big finish as the piano/synths become more prominent. Time On My Hands features Derek Holt (Climax Blues Band) and Steve Holbrook (Lautrec) on guitars. Desperate Train has an Aerosmith tinged intro as it oozes into clean picked riffs,a harmonica backing as it heavies up for the chorus with a tasty wah-wah guitar solo midway. Along with Derek Holt and Steve Holbrook,Luke Morley (Thunder and The Union) also handles guitar duties on this number. TV Junkie has a Southern boogie type groove and a real foot tapper! There are a few Motorhead bars in there which i could not put my finger on as well.
Ace Cafe,probably the heaviest song on Personal Sin has a monstrous riff and surges along like Dallas 1pm which is very apt is it features Paul Quinn (Saxon) on guitar. The pace eases with Spanish Nights so obviously has a flamenco like intro with castanets throughout as the song builds into a huge chorus with some nice Thin Lizzyish guitar breaks. Once again Steve Holbrook guests. Reuben's Blues does exactly what it says on the tin with some lazy saxophone backing. It muscles up midway with a fluid guitar solo over some crashing power chords. Paul Quinn features again along with Neil Murray (Whitesnake,Gary Moore and Snake Charmer) on bass and Paul Raymond (UFO) on guitar. A quirky cover of Shakin All Over is riff heavy with a tribal drum beat and is a good twist on the original version. Like A Clown is another laid back tale of lost love with a noodling guitar drifting over the reflective vocal. Once again another song with a huge chorus! The album ends with Sooner Or Late,another heavy rocker with big backing vocals over a main riff reminiscent of Rory Gallagher. The song ends on a comedy note as Reuben calls out "Get the light someone".
So there you have it,the perfect album for summer so stick it in the car stereo,wind down the windows and treat the world to some Personal Sin! Reuben Archer is a bit of a wine buff so hopefully the album will be a big a seller as his cellar!
Personal Sin band :-
Reuben Archer – Lead vocals.
Rob Wolverson – Guitars.
Featuring guest musicians from Whitesnake,Y&T,Status Quo,Thunder,Saxon,UFO,Climax Blues Band,MSG,Tytan,Lautrec and more.
Album track listing :-
Bulletproof.
Play My Rock N Roll.
Personal Sin.
Lately.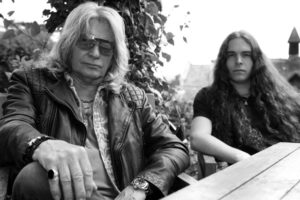 Time On My Hands.
Desperate Train.
TV Junkie.
Ace Cafe.
Spanish Nights.
Reuben's Blues.
Shakin All Over.
Like A Clown.
Sooner Or Later.