RECKLESS LOVE bring their Turborider Tour to The Warehouse Leeds and they are joined by special guests The Treatment with support from Collateral!
It may be 1st September but tonight's show is 'hot, hot, hotter than hell'. What was to be a co-headline show between Reckless Love and Dan Reed, saw Reckless Love taking the top slot due to unforeseen circumstances with Dan Reed band. Nonetheless the rock and roll party was nothing short of spectacular.
Collateral
Hailing from South East Kent, Collateral bring their classic rock vibe. The venue is small and the stage is packed with band gear, so it's surprising the five-piece have room to shake their thing, let alone singer, Angelo Tristan, being able to hoist his micro-phone aloft. Wowing us with songs such as Promise Land and Mr Big Shot. Jesting with the crowd between songs, Angelo builds a good rapport, and thanks everyone for taking the time to come to see them, as they were on stage pretty early. Grabbing his acoustic guitar for Merry Go Round and the Southern rocking Midnight Queen, the high-energy rockers do a brilliant job raising the roof!
Collateral will also be touring again soon with H.E.A.T and Skid Row
Collateral is comprised of Angelo Tristan (lead vocals, guitar), Todd Winger (guitar), Jack Bentley-Smith (bass), and Ben Atkinson (drums).
https://www.facebook.com/collateralrocks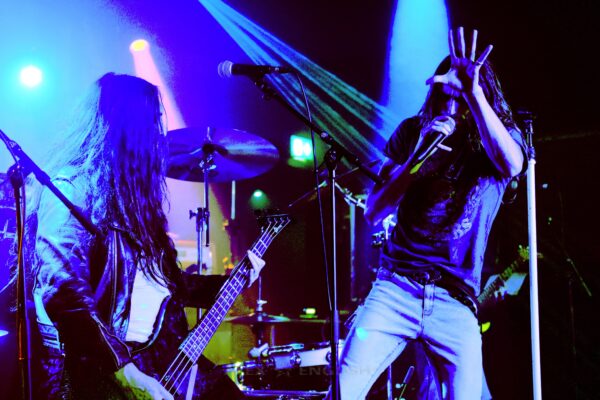 Check the link for more photos – https://flic.kr/s/aHBqjA5Au3
The Treatment – get the party on!
The Treatment is back in Leeds, a mere five months after their headline tour concluded. The guys had no hesitation in saying 'yes' to joining Reckless Love and it's great to see them rocking the Warehouse tonight.
What I love about this band is that they like to mix up their set list, so you'll usually get a different opener/closer on alternate nights of their show. 
Back Bite opens the show, with its classic AC/DC sound, it sets the feel-good rock and roll vibe for what's to come. The Devils in The Detail is another stomper filled with power riffs, pounding drums. 
Singer Tom Rampton thinks the crowd could do better though, as he cajoles his audience for cheers for support act Collateral, and 'asks who's looking forward to Reckless Love', he's met with a slight response. Undeterred, and after a little more probing the crowd get there in the end, maybe they were saving themselves to get the party on!
The energy is high and The Treatment plays full throttle, banging out hits such as Rat Race, Shake The Mountain and I Bleed Rock + Roll, the latter describing what 'us' rock fans love to do, be it mid-week or not.
The Treatment let the good times roll, packing a strong 12-song set. If you were to put the setlist on a playlist and throw in Running With The Dogs, a song they didn't play tonight, you'll be on the money!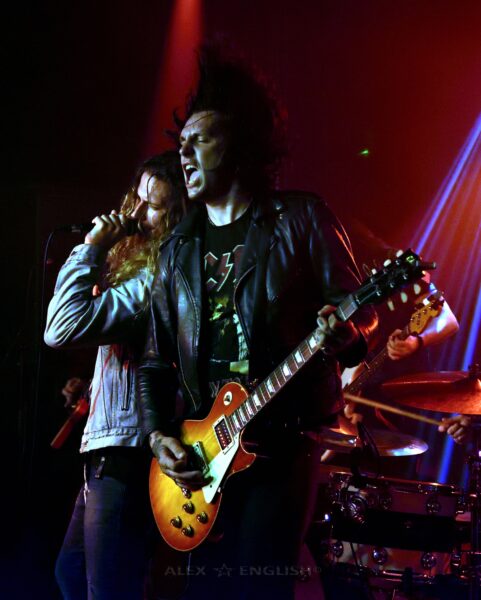 Line-up: Tom Rampton – Vocals, Dhani Mansworth – Drums, Tagore Grey – Guitars/backing vocals, Tao Grey – Guitar and Andy Milburn, Bass Guitar.
Set List – Bite Back -Devil in the Detail – Get the Party On – Rat Race – Shake the Mountain- Vampress – Wrong Way – I Bleed Rock+Roll – Let It Begin – The Doctor – Let's Get Dirty – On the Money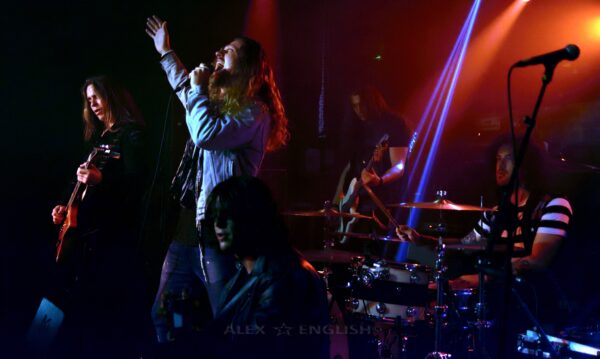 Links: https://www.facebook.com/TheTreatmentOfficial
https://www.instagram.com/thetreatmentofficial/
For more photos – click here https://flic.kr/s/aHBqjA5xmC
Reckless Love – Take us back to paradise with Turborider Tour
Taking us back to paradise our favourite Finnish monsters 'Reckless Love' are back. Celebrating the release of their fifth studio album Turborider, as they bring us their tour of the same name. Swapping spandex for pastel suits, this new look melds nicely into the 80s vibe.
Sporting reflective mirror glasses, and dressed to thrill in a white suit, singer Ollie Herman shines bright and is full of enthusiasm, which he is only happy to share with his audience. I've never seen a happier band and the audience laps it up, as they beam appreciation from their faces, back to the band and they've only just taken to the stage!
Tonight's show is something special, with a 90-minute set, infused with synth wave, Reckless Love has never denied their use of backing tracks. As Ollie tells us tonight 'man, you've heard the new record, and we use a lot of keys on it and we don't have a keyboard player, so yes we use backing tracks!
Turoborider is a perfect change of direction for the band and it serves them
well!
The crowd ain't dead, as Ollie recalls a tale he was told today about the building we are standing in tonight, that used to be a morgue! Well I never!  I'm glad to say sleaze-synth rock and roll is very much alive.
Bringing their A-game covering Ozzy Osbourne's 'Bark At The Moon'. Ollie lets loose headbanging as the rest of the band goes full tilt on this classic metal song! A great smasher of a cover and even better to watch live. The backing track works well, as Pepe, melds the metal on the guitar solo!
Pepe gets his moment again on the Prelude (Flight of the Cobra) – as he solo's to an eager crowd. As we're on the synth theme Ollie teases the crowd to guess to Arcade game as they launch into Kids of The Arcade from their Turborider album.
We all surrender to the sound, as Reckless Love effortlessly delivers the synth wave tracks of Turborider, Loaded, OutRun and Prodigal Sons, they are more electric than before but don't lose their metal rock roots as band members Hessu, Jalle and Pepe bring the core of their musicianship with Herman bringing those high powered notes, to fuse it all together.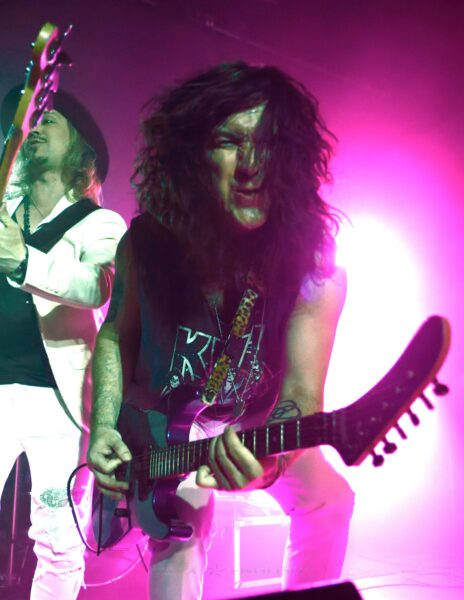 Going back to the days without the synth we are treated to their hits such as Bad Ass, On The Radio and Animal Attraction.
Encore – and the wait is hotter than hell!
With the engine revved up. Reckless Love takes a short encore and the crowd is eager for more as chats 'for we want more' go around the room. 'It's hotter than hell as the band return to the stage.
Raising the bar, this is one of the best performances I have seen of Reckless Love.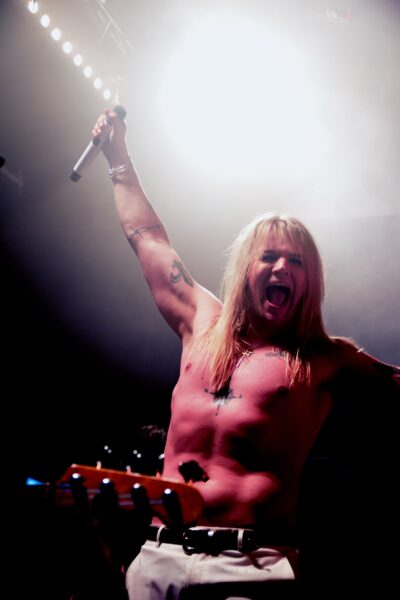 Setlist (in no order): Turoborider – Monster – Outrun – Back to Paradise – Bark at the Moon- Kids of the Arcade – Loaded – Prelude (Flight of the Cobra) – Like a Cobra – Edge of Our Dreams – Eyes of a Maniac – Prodigal Sons – Badass – On the Radio – Encore Animal Attraction – Hotter Than Hell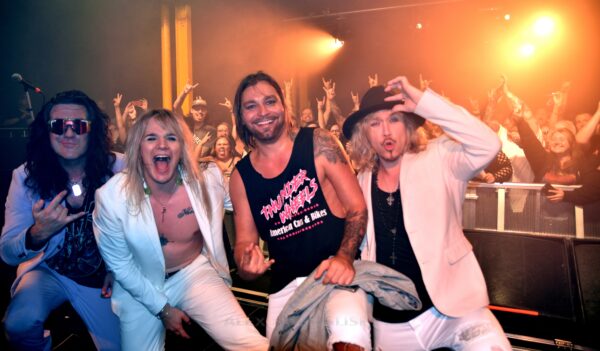 Reckless Love – Guitars: Pepe, Vocals: Olli Herman, Drums: Hessu Maxx, Bass: Jalle Verne
For more photos go here – https://flic.kr/s/aHBqjA5AUZ
Band Socials:
https://www.facebook.com/recklesslove
https://www.instagram.com/recklesslove.official/
https://www.youtube.com/user/RecklessLoveVEVO
https://music.apple.com/de/artist/reckless-love/322452105
Spotify