Monday Night in The Pint was the temporary home of Exhumer, Dyscarnate, Hour of Penance and Psycroptic. Although the line up was promising the turn-out was not all that great and I will have something to say about that too at the end.
First up were Italian band Exhumer. Now, it took me a few seconds to gather myself and realise that they didn't have a drummer! At one stage I thought maybe it was Danny De Vito behind the kit and I just couldn't see him – that was not the case! Now, the issue I have with using drum machines etc is that you don't really know what you're getting here – are the drums pre-recorded by another band member or what's the story? That said, they had a lively, even comical onstage presence at times (of course they were in on the joke). Not completely won over but I would happily look into this guys a bit more.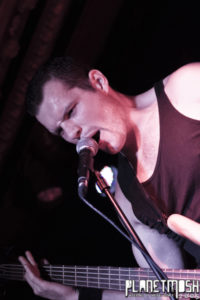 Aussie, Metal Men, Dyscarnate were second band of the night. I had heard a lot of raving about these guys so my expectations were high and to my delight they were exceeded! For anyone not familiar with Dyscarnate, their set-up would remind one instantly of that of Dying Fetus. A three piece – like the Fetus guys- they also have the duo vocals going on which generates a sensation of welcomed onslaught – an aural attack from every corner. They're a great band with really well constructed, distinguishable songs which makes their set less of an endurance test (which can sometimes be the case with Death Metal bands) and more of a break away from the routine of the metal chicken limbo (how heavy can you go before the song is just on the ground, weighed down by heaviness and it's dead?). The unanticipated change ups in tempo and vocals kept us engaged. When the guys played Enduring the Massacre it was like getting a wallop across the face with the bands' inventiveness and flair.  Dyscarnate were truly awesome and anyone who needs more of a push….check out Enduring the Massacre and then pick your jaw up off the ground.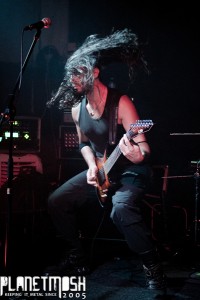 Third on stage were another Italian group, Hour of Penance. Honestly speaking there was nothing all that engaging about these guys. I think after Dyscarnate, hopes were high that these guys could possibly surpass Dyscarnate's performance and that didn't really happen. They were generic Death Metal with nothing all that specific about them. At times I couldn't hear the vocals all that well and even though I have the hearing of an eighty year old and age twenty one, I don't the 'not hearing thing', was my fault in this case. Also, the drummer kept standing up in this Lars Ulrich fashion that only he can get away with and even then he only just does. Can you just wait until you have your own movie coming out before you start that? Thanks. With all that said there is nothing particularly awful about them but there is nothing particularly amazing about them in my opinion.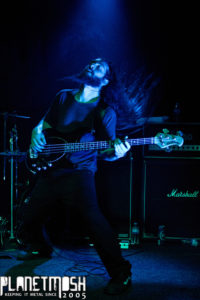 Finally, Psycroptic were on. These guys were there to kick ass and take names and they did! As Irish Mammy-ish as it sounds, it was great to be able to see bands like Psycroptic and Dyscarnate, come from half way around the world to play in some hole in the wall which to most Dublin Metal heads is, a second home. To me it's pretty cool to have live proof that metal is a let out for so many people worldwide and it's a uniting factor. Moving on swiftly before I get sick on myself over that sap. Vocalist Jason Peppiatt doesn't stand on stage; he occupies it, and appears omnipresent, taking over and demanding focus. This stage presence is the birthplace of Psycroptic's raw energy and aggression. Psycroptic have that kind of marred, grungy tone in their music, similar to bands like Misery Index, which gives them an edge and segregates them from other Death Metal Band. Tracks like Carriers of the Plague, demonstrate diversity in style and the change ups and anthem like quality makes it for a great experience live.
Now, I really have to get something off my chest about Monday's gig. First off the turnout was abysmal and it was embarrassing for the Dublin Metal scene as a whole. Where were all the so-called Metal heads? I constantly hear complaints from bands on the Irish scene of how they're sick of playing gigs when they only get watched by other bands and no one new is coming to the gigs etc etc. Well it's a two way street, if you're not prepared to get off your hoop and go and see local, or bigger bands on tour, then how do you expect anyone to bother about your band? Also, there are plenty of Death Metal bands in Dublin and the surrounding areas where were all these people? There are definitely more fans of Dyscarnate and Psycroptic in Dublin than the number that showed up at this gig. I have such a pain in my face listening to people complain about the scene and it's those people who do nothing at all to change it. I understand people have lives outside music and not everyone has the extra cash these days etc which is fine and totally understandable but for those of you have nothing better to do with yourselves it's not really good enough. Gigs are not obligatory but they are a fundamental part of keeping the scene alive.  We've probably been made a bypass country for at least three bands for future tours. Metal Heads, You are on the naughty step!
Photos by Steve Dempsey of Down The Barrel Photography