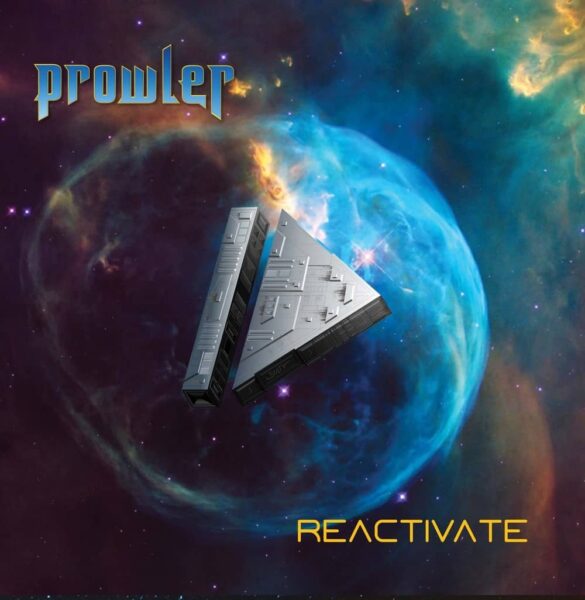 As Ted Nugent once said, "You can't keep a good dog off your leg", point proven by the welcome return of NWOBHM band Prowler who show they still have pedigree to reactivate themselves with the long awaited release of Reactivate via Cherry Red Records.
Formed in Basildon, Essex in 1975 they started performing a year later but didn't hit their stride until 1979 with a line up change and extensive gigging in London. A chance meeting with legendary producer Chris Tsangarides (who has since sadly passed away) saw their track 'Gotta Get Back To You' added to the Brute Force compilation album. 1980 saw a session for Bronze Records look as though they were getting an album release but a suggested name change to Samurai and problems with Bronze unfortunately halted this.
They returned to being Prowler once more in 1981 and split in 1982 but fast forward to the early 2000's when they recorded the album with Chris Tsangarides and these nine tracks finally see the light of day as opening number 'Gotta Get Back To You' bursts in on some fiery riffing, a melodic lead vocal all pinned down by a tight rhythm section as a midway lengthy guitar solo includes snippets of 'Hava Nagila' to get you dancing around the room.
The intensity flows through 'Bad Child Running' for a full throttle foot to the floor headbanger. Twin leads once again is metal heaven so bang your head until it falls off from the instantly memorable main riff as a heavy blues outro ends on some ear popping guitar feedback.
Air guitars are essential for the catchy chugger 'Lost Without Your Love'. Chrouses are sugar sweet but still pack a punch.
'Prisoner' takes no prisoners as it races along hell bent on breaking the speed limit for four fast and furious minutes from a band firing on all cylinders of drum driven almost speed metal that intensifies when the twin leads fly off the fretboards.
The legendary Marquee Club in Wardour Street, London, December 1980 is the setting for 'Rocksong Part II/Heavy'. It's barroom boogie at its bare knuckle best and judging by the rabid crowd reaction it's a bonafide spotlight stealer.
'Gotta Get Back To You' returns but this is a 30th anniversary version from 2010 that surprisingly has more bite than the original but proves that heavy metal keeps us young at heart.
Older still is a 40th anniversary version of 'Heavy Metal Hero' from 2020. There's no frills, just a song that highlights the potency of NWOBHM. Mystical lyrics weave around a snare driven groove that propels this earthshaker towards an over the top guitar solo outro.
Body blow dynamics make 'Under Attack' the heaviest song here. The vocals perfectly match the song title with a threatening vibe over brick heavy riffing that muscle up for a musical brawl midway and bass heavy outro.
This totally overwhelming album ends all too soon with another live track as 'Samurai' comes from Mid- Kent College, Maidstone, Kent, February 1981. These eight minutes fly by for a rifftastic rocker and another number that has thrilling lyrics that take you to that era of time. It goes through the gears for one last attack of twin lead mayhem and when it all dies down, the silence is deafening!
Purchase links and band info are here :- https://www.cherryred.co.uk/product/prowler-reactivate/ I https://www.facebook.com/prowler.nwobhm.5
Reactivate album track listing :-
Gotta Get Back To You.
Bad Child Running.
Lost Without Your Love.
Prisoner.
Rocksong Part II/Heavy (Live At The Marquee Club, Wardour Street, London 1980).
Gotta Get Back To You (30th anniversary version 2010).
Heavy Metal Hero (40th anniversary version 2020).
Under Attack.
Samurai (Live At Mid-Kent College, Maidstone, Kent, February 1981).
Album personnel :-
Trev Pattenden – Bass Guitar/Vocals.
Martin Burrows – Lead Guitar.
John Pattenden – Guitar.
Colin Smith -Drums.
Mick Dowling – Drums.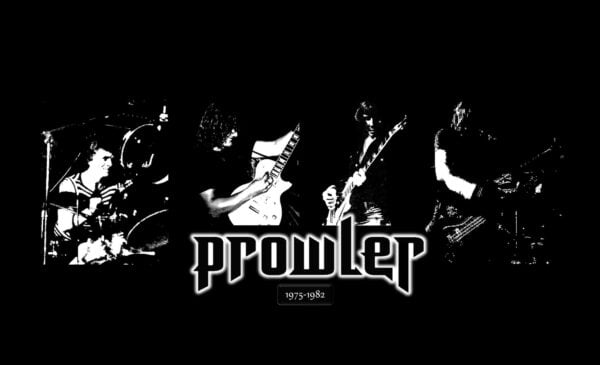 NWOBHM at its finest from Prowler as they return from the wilderness with their long awaited debut album Reactivate.