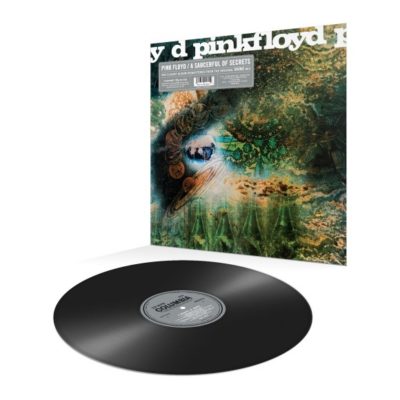 To celebrate Record Store Day 2019 (Saturday 13 April), Pink Floyd will re-release the band's second album A Saucerful of Secrets on vinyl. Remastered by James Guthrie, Joel Plante and Bernie Grundman from the original 1968 analogue mono mix, the release is the latest from Pink Floyd Records, which has supported Record Store Day since the label's launch in June 2016.
The limited-edition Record Store Day release is delivered on premium 12" 180-gram black vinyl, with a black poly-lined inner sleeve, and a faithful reproduction of the original sleeve, including the 'Columbia' logo, under which imprint (via EMI) the early Pink Floyd released in the UK. (The 'Columbia' logo has been used by kind permission of owners Sony Music Entertainment).
Originally released in June 1968, A Saucerful Of Secrets represents a change in line-up and direction. Co-founder and original songwriter Syd Barrett contributed only one song to the album and his live appearances became more erratic.  So unreliable were Syd Barrett's live appearances that fellow founder members, Roger Waters, Rick Wright and Nick Mason decided to draft in David Gilmour, a friend of Syd's, also from Cambridge. Roger Waters and Richard Wright contributed for this album four and three songs respectively.
The album reflects this transition, containing a mixture of material, from the almost 'music hall' Corporal Clegg through Richard Wright's dreamlike and melodic See-Saw and Remember A Day to the title track – an 11-minute, four part instrumental excursion that both harked back to their UFO freakouts and looked forward to the longer, more anthemic instrumental sequences that were to become one of their signature elements.
In spite of the band having to wait a further 11 years for a UK hit single, the album reflected Pink Floyd's popularity by charting at No. 9 in the UK. Produced by Norman Smith at London's Abbey Road Studios, it features songs that remained on the band's live setlist for many years, such as Set The Controls For The Heart Of The Sun by Roger Waters and the title track, composed by Roger Waters, Richard Wright, Nick Mason and David Gilmour. Corporal Clegg features a rare lead vocal on a studio album by Nick Mason, who otherwise appears with spoken word contributions to One Of These Days on Meddle, and two tracks on A Momentary Lapse of Reason.
The album's cover artwork was the first ever sleeve design for creators Aubrey Powell and Storm Thorgerson of the Hipgnosis design team, and was to lead to a ground-breaking career for them in the visual arts, including of course many more iconic Pink Floyd album sleeves, amongst them The Dark Side of the Moon and Wish You Were Here.
A Saucerful of Secrets in Mono follows the successful release of Pink Floyd's debut album The Piper At The Gates of Dawn in Mono in 2018, and is released via Record Store Day participating stores on 13 April 2019.
Track Listing:
Side 1
Let There Be More Light                                 (Roger Waters)
Remember A Day                                            (Richard Wright)
Set The Controls For The Heart Of The Sun    (Roger Waters)
Corporal Clegg                                                (Roger Waters)
Side 2
A Saucerful of Secrets                                     (Roger Waters, Richard Wright, Nick Mason, David Gilmour)
See-Saw                                                           (Richard Wright)
Jugband Blues                                                 (Syd Barrett)