What does worldwide quarantine do to our favourite porcine libertine? Raymond Watts holed up in his sty and created 'The Merciless Light', the new album by PIG. Ably aided and abetted by long time accomplices En Esch and Steve White, Watts also welcomes a new swine to the trough as Jim Davies (Pitchshifter/The Prodigy) adds another new level of impeccable (in)credibility and talent.

'The Merciless Light' seethes, swings, seduces and snarls. Extraordinary electronics and a glut of glitz, glam, guitars and grooves create a masterful mélange of mirth from our very own venerable Vicar of Vice.

A video for the album track 'Tarantula' directed by Grete Stitch Laus has been made available today to coincide with its release, providing a little bit of vintage S&M sauce to match the smart and sassy vibe of the song.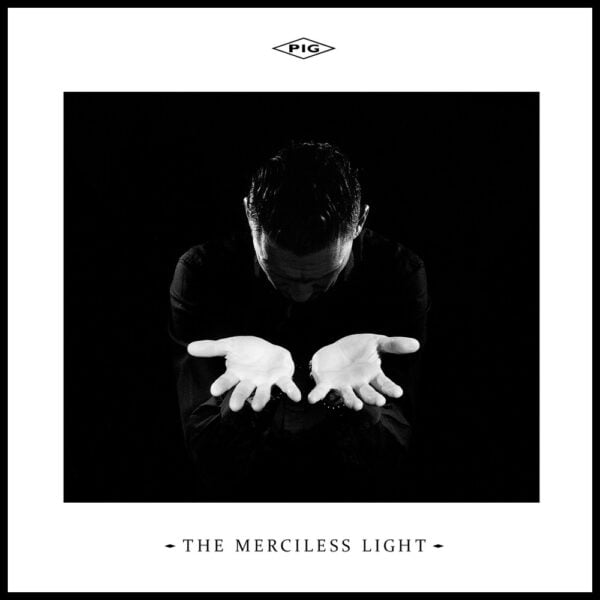 THE MERCILESS LIGHT
new album
out 23.09.22
[Metropolis Records]
available from
pigindustries.bandcamp.com
the album also includes the single
NO YES MORE LESS
audio
Spotify | Apple Music

THE MERCILESS LIGHT
TRACKLISTING
1 No Yes More Less
2 Veni Vidi Vici
3 Feed The Wound
4 Speak Of Sin
5 Limbo
6 Glitz Krieg
7 Sugar My Pill
8 The Dark Room
9 The Merciless Light
10 Tarantula
11 Obliteration Liberation
12 The Judas Chair
Raymond Watts aka PIG has enjoyed a varied career since starting out as a pioneer member of the mid-1980's industrial rock scene. He has toured with KMFDM (he was a member of the band in their early days), Nine Inch Nails and Einstürzende Neubauten, written music for fashion and film for Chloe, Marios Schwab, Halston, The Row, as well as creating the sound design for the exhibition 'Punk: Chaos to Couture' at the Metropolitan Museum of Art in New York. He also collaborated with the late fashion icon Alexander McQueen, who commissioned Watts (with John Gosling) to embellish the serene instrumental track 'Inside' (from the PIG album 'Genuine American Monster' album) for the soundtrack to 'Plato's Atlantis'. The show was reprised after McQueen's untimely death as the finale of 'Savage Beauty', the posthumous retrospective that broke all records at both The Metropolitan Museum of Art and the Victoria & Albert Museum.
The most recent full-length PIG studio album, 'Pain Is God', was released in 2020, with Metal Hammer magazine noting its "sly nods to pop and catchy melodies contrasting perfectly with Rammstein-esque purges and Mr Bungle-style jazz-isms."
PIG photography by E Gabriel Edvy
pigindustries.com
instagram.com/pig_band_official
MUSICIANS
Raymond Watts <> Jim Davies <> Steve White <> En Esch
with
Michelle Martinez, Mike Watts, Enrico Tomasso
and the PIG Choir
Abbie Aisleen, Jim Davies, En Esch, Marc Heal,
Jimmy Livingstone, Mona Mur, Mike Watts