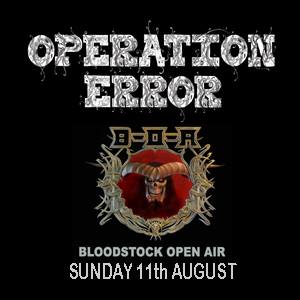 Operation Error  are set to play the Jägermeister Stage at this years Bloodstock festival on Sunday the 11th August.
We catch up with the band to find out more about them, the festival, their thoughts and what you lucky Bloodstock go-er's will see!
Can you give the readers a quick introduction please.
We are Operation Error. We come from Stoke-on-Trent. We formed in 2007 and haven't looked back since.
How would you describe your sound.
That is always hard to answer. We have never felt like we fit into any specific genre. We have previously been branded as 'Progressive Epic' but we see ourselves as a bit of a fusion between Metal, Prog and Alt Rock.
Why did you want to become part of the Jägermeister Stage line up.
We are releasing an unplugged record the day after our appearance at BOA so an acoustic stage at Bloodstock seemed to be the ideal place to mark its release.
What was your initial reaction when you found out you were playing on the Jägermeister Stage.
We performed on the Jager stage at Bloodstock in 2011. It was our first ever experience at a major festival and we thoroughly enjoyed it. To be invited back to play anywhere is always a vindication of a previous performance so in short we couldn't be happier.
How does it feel to be doing an acoustic set?
We are no strangers to acoustic performances. We write all our songs acoustically and then work them up from there. We are recording material acoustically at the moment for the record so by time Bloodstock comes around it will be second nature.
What can the audience expect from you at the festival.
Entertainment….we hope. We take great pride in putting our performances together and we have already got a lot of special one off ideas for BOA.
Have you ever been to Bloodstock before? If so when and what did you enjoy most about it.
We were there performing in 2011. The one thing that stands out about Bloodstock, compared to pretty much eveyr other festival in the UK, is the way you get looked after. Whether you are a band member or punter you are made to feel welcome unlike some of the other festivals where you are herded like cattle.
What is your opinion of the Bloodstock line-up.
I think this year's the best ever. Bloodstock is a major festival nowadays and the line up reflects that.
What are you looking forward to most at Bloodstock.
The music (of course) and drinking, drinking, drinking and perhaps a little more drinking (punctuated by the odd burger).
Are there any bands you're hoping to watch while you're there ?
All the headliners, Anthrax, Earthtone 9, and because a few of us are big WWE fans we can't wait to see Fozzy.
Can you sum up Bloodstock in one sentence!
Unrivalled metal madness.
Any message you wish to pass on to the PM readers
Come see us play on Sunday and then hang around after and have a beer or two with us.
Thank you for taking the time out to complete this interview, we are looking forward to seeing you at Bloodstock \m/ \m/
Links:
www.facebook.com/operationerror
www.twitter.com/operationerror