Acclaimed Finnish melodic rockers ONE DESIRE announce their new live album 'One Night Only – Live In Helsinki'
Frontiers Music Srl is pleased to announce the forthcoming release of 'One Night Only – Live In Helsinki', the first-ever live album and video by Finnish rockers One Desire. Those who have already had the pleasure of seeing the group play live know how incredible they are in that setting; now everyone else has the opportunity to do so. As a preview, the band has released a live single and video for 'After You're Gone', the explosive first single from their current studio album, 'Midnight Empire'.
One Desire had hit the road in early March 2020 with The Night Flight Orchestra to promote the then forthcoming release of their second album, 'Midnight Empire', but the coronavirus pandemic was strengthening its grip on the globe at that exact time and the tour had to be cut short. Arriving home, every band member found that they had caught the virus severely, although fortunately they all recovered in time.
While the album release campaign was as successful as it could be given the circumstances, the group yearned to show its fans how these new songs sounded live. As the world adjusted to a new reality for live performances, a one-of-a-kind recording was captured in October 2020 in front of a restricted audience at the On The Rocks Club in Helsinki, for which the band performed a selection of their most acclaimed songs. The result is 'One Night Only – Live In Helsinki', which also comes with bonus content.
One Desire released their self-titled debut album to massive acclaim in 2017. Containing the hit single 'Hurt', which has had millions of plays on Spotify and YouTube, it catapulted the band to the forefront of the melodic rock scene. Successful European tours with Eclipse and H.E.A.T were followed by festival appearances and headlining shows before they headed back to the studio to start work on 'Midnight Empire'. In the works for two years, it was worth the wait; a more mature and adventurous release, it also retained the catchy hooks of its predecessor and was recognised as one of the top melodic rock albums of 2020.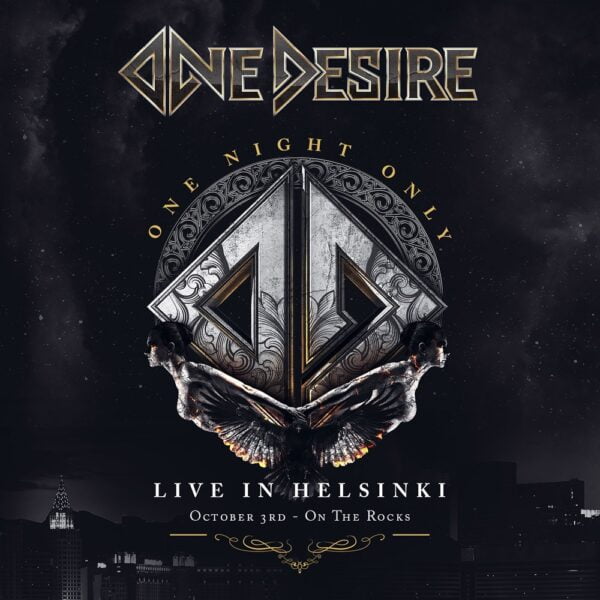 ONE NIGHT ONLY – LIVE IN HELSINKI
TRACKLISTING
1  Shadowman
2  Apologize
3  Down And Dirty
4  Heroes
5  Godsent Extasy
6  This Is Where The Heartbreak Begins
7  Only When I Breathe
8  Falling Apart
9  After You're Gone
10  Whenever I'm Dreaming
11  Hurt
12  Buried Alive
ONE DESIRE
ONE NIGHT ONLY – LIVE IN HELSINKI

live album
LP / CD+DVD / Blu-ray
out 11.06.21
(Frontiers)

pre-order link
orcd.co/onenightonly
includes the live single
AFTER YOU'RE GONE
video
ONE DESIRE
André Linman – lead vocals, guitars
Jimmy Westerlund – guitars, background vocals
Ossi Sivula – drums
Jonas Kuhlberg – bass
onedesire.net
facebook.com/OneDesireBand
instagram.com/OneDesireBand