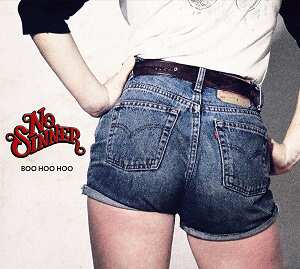 No Sinner are a Blues-Rock band from Vancouver, Canada.  They take their name from their lead singer, Colleen Rennison (Rennison spelt backwards gives No Sinner).  This is their debut album, and it's release follows them playing their first ever UK gig at the Black Heart in Camden at the end of November, and supporting Beth Hart on part of her European tour.
I've had this album for well over a month, and I'm still listening to it on an almost daily basis – this really is a fantastic album.  Singer Colleen Rennison has a seriously impressive voice, and it's no wonder that she gets compared to Janis Joplin.  That voice really is something special and is what immediately grabbed my attention the first time I hit play.  A great singer though is nothing without a good band and more importantly, great songs, and happily No Sinner score well on both counts.
Brief comments on a few of the songs….
The album opens with the title track, "Boo hoo hoo"
The opening guitar part to "Runnin' " reminds me of T-Rex, although that resemblance disappears once the vocals start and you move into the main part of the song.  Once again there are some great bits that allow Colleen to let loose with that powerful voice.
"If anything" is a slower track with a more soulful vocal style
"Work song" is a cover of the Nina Simone song, and sounds great.  It's a great sign when a young band can take a song made famous by a singer as good as Nina Simone and really do it justice.
"Rise up" has more of a gospel feel than blues, but as with the other songs here it sounds great.
This really is a superb album, and as a debut album from a young band it points to them achieving great things over the coming years.  Despite being heavily jetlagged when they played London last month they still put in an excellent performance and sounded jsut as good live as they do on the album.  I definitely recommend this album to all Blues-Rock fans, and suggest that if you get the chance then go and see them play live.
Highly recommended.
Rating: 10/10
"Boo Hoo Hoo" will be released on 20th January 2014 on Provogue records.
Track listing:
1. Boo hoo hoo
2. Love is a madness
3. Runnin'
4. If anything
5. Work song
6. That'd be the day
7. Rise up
8. Devil on my back
9. September moon