Grand Central is a rock/metal pub in Manchester which joins forces with Rocksector records to host live bands every Thursday. When bands are on, the pool tables are pushed to one side and a small stage area is created to the far left hand side of the pub (as you walk in). With a few large pillars dotted about, you don't always get a great view but if you, like to be close to the action and, stand in the area in front of the stage it makes for an intimate gig! Having seen Massive Wagons once or twice before, or make that so many times I've lost count, I was looking forward to seeing them again, albeit for the last time this year!
First up came Doomsday Outlaw a hard rocking five piece from Derbyshire formed in 2012. With his wild dark hair, black bandana and Che Guvera t-shirt Carl looked very much the Pirate. Opening with Devils Tomb which had lots of Hey Hey Heys these Outlaws reminded me of tonight's headling act Massive Wagons. A fair bit of posing with the mic stand ensued. Deep Within had a good strong bass line and plenty of riffs. Things slowed down a little with Thin Line, again with a good bass line. With a shout of Cowboys clap your hands the band launched into Doomsday. Steve with his long blonde hair was playing a few riffs behind his head, something which I have seen Adam from Massive Wagons do on many occasions and whilst I couldn't tell you the make and model of the guitar being played I knew it wasn't a Flying V! With a few great guitar faces being pulled along the way, I thought these were an entertaining opener, similar in sound and style to Massive Wagons.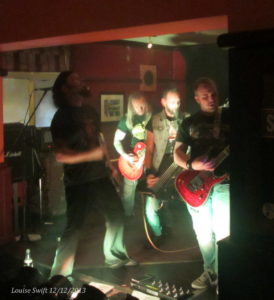 Set List:
Devils Tomb
Generation
Deep Within
Thin Line
Deadmans
Doomsday
Band Members
Carl – Vocals
Steve – Guitar
Gavin – Guitar
Indy – Bass
John – Drums
Facebook: https://www.facebook.com/DoomsdayOutlaw
Website: http://www.doomsdayoutlaw.com
Next up came Dead Blonde Stars a Rock band from Sheffield. I would describe these as stoner rock or grunge similar to Pearl Jam or Sound Garden but nowhere near as polished. These weren't really my kind of band and most songs sounded like out of key warbling to me. I asked a few others in the audience what they thought and a couple of people said they enjoyed them but others weren't keen either. One person described them as a pub version of Sound Garden. Pub version being the operative term as, based on their performance tonight, I can't envisage these guys headlining the likes of the Manchester Phones 4 U Arena anytime soon. If you like stoner metal/grunge then by all means go to a show and make up your own mind.
Band Members
Gary Walker – Vocals/Guitar
Tom Gratton – Guitar
Oliver Thompson – Guitar/Vocals
Matt Simons – Bass/Vocal
Chris Williams – Drums
Facebook: https://www.facebook.com/deadblondestars
Website: http://www.deadblondestars.com/
The headlining band Massive Wagons took to the stage opening with Rising Tides, a bit of déja vu with the Hey Hey Heys as we'd had these in the opening number from Doomsday Outlaws. Frontman Baz Mills, who with his long dark hair and occasional gurn is a deadringer for Neil from The Young Ones, asked 'Are You Ready for Some Dirty Rock n Roll' and of course we were. Massive Wagons rode straight in to Ride On and followed that up with Buck. Massive Wagons always look like they're really enjoying being up there on that stage – although in this case it was quite a low stage!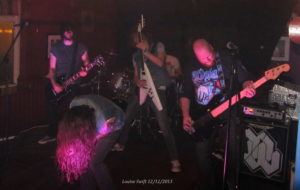 The next song Heavy Metal Man is a tribute to the late Ronnie James Dio and Bowz even looked the part of a Heavy Metal Man wearing his Dio t-shirt. Masssive Wagons did the great man proud with Baz twirling the mic and Alex hitting the drums and banging the symbols with vigour. Things then took a slower turn with Look Around. SWT was apparently written about Carl and his 'miserable f**king love life.' Although I don't know what SWT stands for. By this stage the band were dripping in sweat and Baz kindly posed for a camera (not mine) shot. The next song was dedicated to all who have seen Massive Wagons before and it was apparent there were a few of us. Baz said they really appreciate the support before firing into Fight the System, a song which was on their first album Fire it Up and has been reworked to be included on their new album becoming the title track. Read our review of Fight the System, (the album) here: http://planetmosh.com/reviews/massive-wagons-fight-the-system/  
Carl and Barry looked to be headbanging in sync, although I suspect it was to the beat rather than planned! Red Dress was dedicated to an audience member out celebrating their birthday, which was  a nice touch. Baz at one point was on his knees gripping Carl's leg. Baz then announced everyone sing along if you know the words, and we got a short burst of Rainbow's Long Live Rock 'N Roll, before the last song of the main set Jailhouse Rock a hard rocking cover of the late great Elvis Presley classic. A really good set from the five piece from Lanacashire. After lots of applause and shouts for more we got a cover of Whole Lotta Rosie by AC/DC with plenty of audience participation, dancing and singing. More déja vu as Adam hosited his guitar behind his head for a few riffs, and this time I was able to identify the make and model as a Gibson Flying V. More thunderous applause and whistles ensued but that really was the last song. A small venue but a massive performance! These guys are great to see live and have recently won an award  for the best live performance of this year in the TBFM Online Music Industry Awards 2013. Look Around for a Massive Wagons gig at a venue near you in 2014!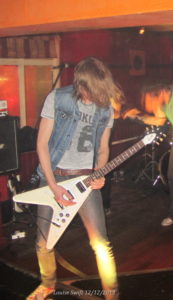 Set List
Rising Tides'
Ride On
Buck
Heavy Metal Man
Look Around
SWT
Fight the System
Red Dress
Long Live Rock 'n' Roll (Rainbow cover)
Jailhouse Rock (Elvis Presley cover)
Whole Lotta Rosie (AC/DC cover)
Band Members
Baz Mills – Vocals
Adam Thistlethwaite – Guitar
Carl Cochrane – Guitar
Bowz Bouskill – Bass
Alex Thistlethwaite – Drums
Facebook: https://www.facebook.com/MassiveWagons
Website: http://www.massivewagons.co.uk/
Adam kindly answered a few questions about 2013 and what's in store for Massive Wagons fans in 2014 just before the gig. Here's what he had to say: http://planetmosh.com/adam-thistlethwaite-massive-wagons-interview-12-december-2013/
[amazonmp3 asin="B0073O92IM"]
(A big thank you to Darren Quinn who provided some of the photos used to illustrate this review.)