It's been a few years since I've seen or heard anything from London based New Device, the last time I think was Rockwich Festival. So their new 6 track EP Karoshi is a welcome return for me.
Currently released by ND Records it opens heavily with 'Burn Out The Sun'. It's a riff heavy rage backed by a speaker rattling drum pound. Call to arms lyrics pack a punch as well as hitting a melodic stride until a full on headbanging outro kicks in.
'Wake Up', the first single taken from the EP is a power ballad that's powerful enough to light any stadium up. It's a real heart grabber of the highest order as sugar-sweet vocals steal the spotlight until a melodic guitar solo rushes in.
It's all about the choruses for 'Open Your Arms', big fat choruses that make you want to shout them from the rooftops. Musically it's a wall of guitar riffs and an ear caressing solo.
Almost doom like dynamics muscle up 'Hell To Pay' and it takes a lung busting vocal to make itself heard above the cacophony!
'Bring The Stones' has a 'Street Spirit' like intro, it's the calm before the storm as it then rocks hard on granite riffs and a watertight rhythm section. A face melting guitar solo is the icing on the cake.
This highly impressive release ends on 'Kingdom Of The Damned'. It pulls no punches as this foot to the floor force of nature makes it my favourite track. Powerful choruses vie for attention with the hypnotically heavy dynamics.
Karoshi EP track listing :–
Burn Out The Sun.
Wake Up.
Open Your Arms.
Hell To Pay.
Bring The Stones.
Kingdom Of The Damned.
New Device band line up :-
Daniel Leigh – Lead vocals.
Matt Mallery – Guitar.
Lzi Hayes – Bass guitar.
Roz Ison – Drums.
https://amazon.co.uk/Karoshi-New-Device/dp/B08B6CZX76/?tag=plane09-21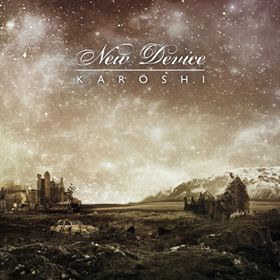 Left to their own devices has resulted in an awesome sextet of songs.