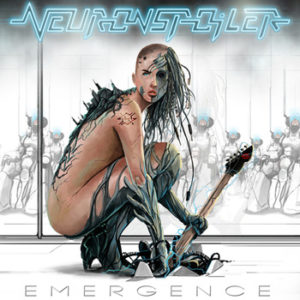 We love new bands and new metal done well here at Planetmosh and London based Neuronspoiler certainly know how to do it well if their first full length album is anything to go by. Emergence, produced by Guillermo "Will" Maya (The Answer, Breed 77, Panic Cell, Adrian Smith), carries a ton of old school metal vibe through its veins as it takes you on the crest of a wave through everything that is good and great about metal both classic and modern. Let me make this clear though, bands that carry this kind of feel tread a very fine line between keeping their music sounding fresh or having it sound cliched and nothing more than a testament to what has been.
Thankfully though Neuronspoiler's united nations come together to provide us with some damn fine thumping metal tunes. Original it may not be, but that most certainly doesn't stop it from being immensely enjoyable. There's shades of Iron Maiden, of Helloween, of Queensryche, of Judas Priest, of Dream Theater all coming together in a fine manner.
There is a slight stuttering start with album intro Digital Resistance feeling like it's just getting going before it fades out and first full track Through Hell We March comes thumping in. This track indeed typifies Neuronspoilers style. Brilliant guitar melodies and vocal harmonies, rolling runs on the kit and some great bass accents throughout. Take The Stage ups the pace with a magnificently galloping piece of metal and some rip-snorting solos. JR's vocals are something akin to Michael Kiske meeting Geoff Tate. He has a tremendous range that is shown to great effect here.
Irreverent cuts into more of a Megadeth themed attack before hitting a more rock infused style. Once again comment has to be made of JRs vocal range as he roams into positively Halfordesque wailing. It's also great to see they have the ability to change tact and approach with each track. Invincible Man shows the band's versatility once again as they continue in the heavy rock mold with a good smattering of groove thrown in.
It's an album that, so far, is a classic and shining example of what heavy metal would be to the uninitiated. Chuck this bad boy of an album in front of them as the perfect introduction to what metal in its broadest term would. Yet again I stress that this is anything but a slight on Neuronspoiler because they work at their craft so well.
Following Act of Defiance' brief interlude the album kicks on with yet another anthemically pounding metal track by way of Exempt of Privilege that has all the hallmarks of the tracks Neuronspoiler have shown to such great form so far. Dying Worlds takes us into more progressive territory as they dance through shades of light and dark over the course of the track. It also once again shows the band's musicality, not to mention their more melodic side.
The album closes out on a high as well with the pacy Just a Fool On Your Way Up, a track that would make Helloween proud I reckon with a killer hook and chorus thrown in for good measure, as well as some rip-snorting soloing. Never Back Down completes the album with a real power metal vibe and also a great flourish that satisfies any metal cravings you may still have left at the end of this album.
Yeah, Neuronspoiler. 100% Heavy Metal. 'Nuff said.
Emergence is available now directly from the band online right here
Track Listing:
1. Digital Resistance
2. Through Hell We March
3. Take the Stage
4. Irreverent
5. Invincible Man
6. Act of Defiance
7. Exempt from Privilege
8. Dying Worlds
9. (Just a Fool) On Your Way Up
10. Never Back Down
NEURONSPOILER are:
JR – Vocals
Dave del Cid – Guitar
Dave Shirman – Guitar
Erick Tekilla – Bass
Tim Barclay – Drums
LINKS:
www.neuronspoiler.com
www.facebook.com/Neuronspoiler
www.myspace.com/neuronspoiler
twitter.com/neuronspoiler
www.youtube.com/neuronspoiler