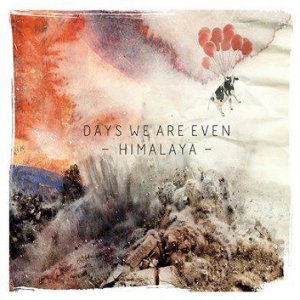 Days we are even are a band based in Zurich, but with members coming from Germany, Switzerland and Brazil.  They describe their music as "modern metal", whatever that is supposed to mean.
Brief comments on a few songs..
The album kicks off with 'Misunderstood'.  Nice heavy guitar riffs, good vocals, this is a great start to the album, nice and heavy with a good tune.
'Stereo/stereo' keeps up the metal onslaught with another great heavy track.
'Mescaline' is a track that starts off quite heavy and with a strong chorus before turning into more of a ballad
It's a very good album – heavy but still melodic in the way Stone Sour or Foo fighters are.  Special praise has to go to the packaging.  It's a fold out gatefold pack with some beautiful paintings on, and when you look through the CD booklet there is more wonderful artwork as well as the lyrics to the songs.
Well worth a listen:
Rating: 8/10
Track listing:
1. Misunderstoood
2. Stereo/stereo
3. Saturday leash
4. Mescaline
5. Himalaya
6. Pure
7. Cars (the low breeze of hope)
8. Rewind the pain
9. Ballerina
10. Take my time
11. Seventeen
12. The elegance
Days we are even are:
Jo – Vocals / Bass
York – Drums / Percussions
Mighty Muzzy – Guitars / Backing Vocals