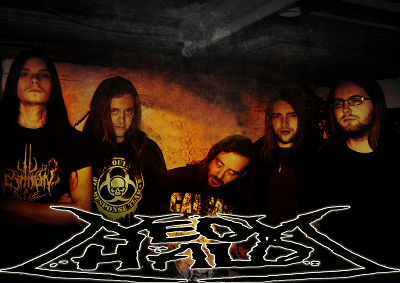 Neon Halo are set to play the New Blood Stage at this years Bloodstock festival on Sunday the 11th August.
We catch up with the band to find out more about them, the festival, their thoughts and what you lucky Bloodstock go-er's will see!
Can you give the readers a quick introduction to the band.
We're NeonHalo, we're a dirty death metal band from the dirty town of Chatham, Kent.  We've existed in various forms since 2003 and reformed in January this year with a slightly adjusted line-up, a more direct sound and a bunch of new songs
How would you describe your sound.
We're normally described as Death/Extreme metal, but we have a lot of different influences, there's a bit of thrash and straight up heavy metal thrown in there too.
If you're into Cannibal Corpse, At The Gates or Unleashed you'll probably be into what we do.
Why did you want to become part of the New Blood Stage line up?
Bloodstock is our favourite festival and the New Blood Stage always has such a great line-up, we really wanted to be part of the carnage this year.
What was your initial reaction when you found out you were playing on the New Blood Stage?
We're all still really blown away by it, its pretty amazing considering that this time last year we thought the band was done.  Now we're really pumped and we cant wait to get up to Catton Park and smash the hell out of it.
What can the audience expect from you at the festival?
Sickeningly fast, crushingly heavy metal with lots of energy and shenanigans.  Our audience is normally a pretty brutal bunch so we want to encourage everyone to go crazy and have a good time.
What has been the bands biggest achievement so far?
We've won a few BOTB's competitions before, but nothing that compares to winning this years Kent region Metal 2 The Masses final.  Having entered a few times before, finally going all the way and winning it, not to mention landing a spot at Bloostock is definitely  our biggest achievement.
Have you ever been to Bloodstock before? If so when and what did you enjoy most about it.
Yeah a few times, the atmosphere is always amazing.  You get to meet loads of awesome people and see tonnes of great bands all in one place.  But all our best memories of Bloodstock probably involve bin jousting.
What is your opinion of the Bloodstock line-up.
Its Excellent as always, theres so many bands that we want to see this year.  King Diamond, Dying Fetus, Municipal Waste….It's going to be a real busy weekend.
What are you looking forward to most at Bloodstock.
Mostly we cant wait to get up there and unleash our music on everyone, other than that we're all set for a weekend of awesome bands, heavy drinking and debauchery
Can you sum up Bloodstock in one sentence!
The best damn Metal festival in the country.
Any message you wish to pass on to the PM readers
We just want to thank our fans for being so awesome, we wouldn't be playing this festival without your help.
Everyone else, Please come check us out at Bloodstock!!
Our debut EP 'Forensic Pornography' is out this summer.
Thank you for taking the time out to complete this interview, we are looking forward to seeing you at Bloodstock \m/ \m/
Links:
https://twitter.com/NEONHALO_UK