Motörhead should need no introduction. They play rock'n'roll, they do, and loudly too, but at a jazz festival? The Montreux Jazz Festival has always been about blending and going beyond perceived boundaries and they have embraced a wide range of artists and genres over the years.
This live selection is a fine career retrospective, a good mix of the old and new and these are great songs from across their catalogue, there will of course always be detractors as you can't please everyone.
After my first listen what really strikes me is how clean and fresh this recording is, just like Lemmy's socks after they have been washed!
Stay Clean is phenomenal, the band are firing on all cylinders with added tightness. Lemmy's bass playing is ferocious especially on Be My Baby from what was their latest release at the time Kiss of Death. I am working whilst listening and I can feel my head instinctively nodding along, all the way through. Impressed, I am. And Metropolis, it's class baby, it's class.
Killers from the 2004 album Inferno, along with Whorehouse Blues later (which has Phil Campbell playing a resonator as well as Lemmy getting his harmonica out) are also newer numbers the continued power and determination of this trio and, when they want to, their versatility.
The cover of the Bob Seger song Rosalie, made more famous by Thin Lizzy, is the only mis-step in this collection. It just doesn't go anywhere and distracts from what would have been a full five stars.
Killed By Death showed the world they could move beyond being the 'three amigos' and this performance is harder, faster and quite simply better than the studio version that, to my ears, sounded sluggish.
The frantic pace of Going To Brazil sounds like they are being pursued down the M1 at 150mph, it's the thrill of the chase. Iron Fist continues that ferociousness and is a pure delight to the ears.
The last couple of songs are highly predictable – Ace Of Spades doesn't forget the joker and Overkill is blistering, the later still my favourite song of theirs since first hearing it back in 1979. Stick a fork in me – I'm done.
Is this peak Motörhead? Who cares. Buy it and play it. LOUD!!
Tracklist :
1. Snaggletooth
2. Stay Clean
3. Be My Baby
4. Killers
5. Metropolis
6. Over The Top
7. One Night Stand
8. I Got Mine
9. In The Name Of Tragedy
10. Sword Of Glory
11. Rosalie
12. Sacrifice
13. Just 'Cos You Got The Power
14. Going To Brazil
15. Killed By Death
16. Iron Fist
17. Whorehouse Blues
18. Ace Of Spades
19. Overkill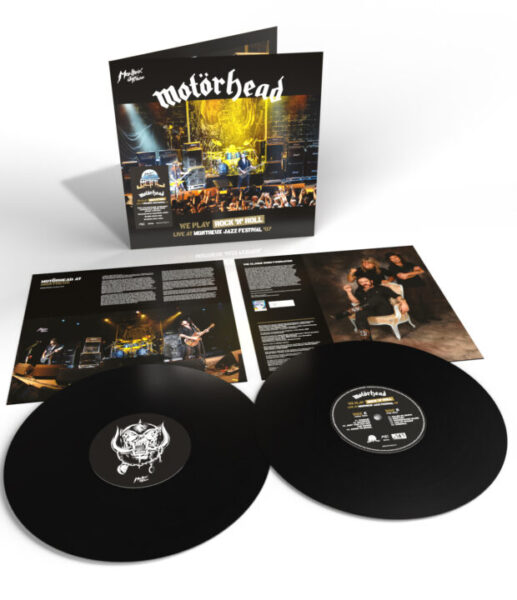 Motörhead play at a jazz festival in Switzerland and it's the sound of music!
CD £13.99, LP £27.99

editor rating