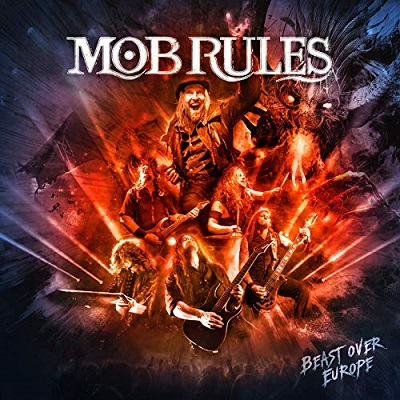 Last year German melodic metal/Power metal band Mob Rules released their latest studio album, "Beast reborn". Since then they've toured in suport of the album and several shows on the tour were recorded and have been used to create this new live album, the band's fist live album for 14 years.
Unsurprisingly the "Beast reborn" album features heavily in the setlist with five songs from the album appearing here as live versions. As the last album was very good then that's good news for fans as is the fact that there are a further nine songs included from their earlier albums.
The band's present lineup with the addition of a second guitarist worked well on the last album and in a live setting it really does sound great. Listening to this album and the Beast reborn album, I really am surprised that Mob Rules arent much better known in the UK than they currently are – certainly they deserve a lot more success.
An excellent live album.
"Beast over Europe" will be released on 13th September 2019 on Steamhammer/SPV
Track listing:
1. Beast reborn
2. Ghost of a chance
3. Somerled
4. Black rain
5. Sinister light
6. Dykemaster's tale
7. My kingdom come
8. The last farewell
9. Children's crusade
10. On the edge
11. In the land of wind and rain
12. Hollowed be thy name
13. Way back home
14. Rain song