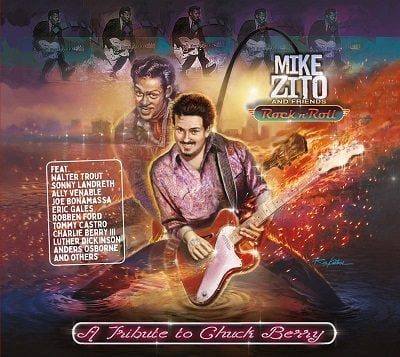 Blues artist Mike Zito has a new album about to be released. It's not a Blues album though – it's a tribute to Chuck Berry and features 20 of Chuck Berry's songs. An important detail in the album title is the "and friends" bit – the album features a staggering number of guest guitarists. Over the course of the 20 songs, there are 21 guest guitarists (plus Mike Zito himself). Guests include Eric Gales, Walter Trout, Joe Bonamassa, Robben Ford, Sonny Landreth, Luther Dickinson and Chuck Berry's grandson Charles Berry III.
So in short it's an album of Chuck Berry covers with a very talented group of musicians playing on it. Covers albums are always a subject of debate – cynics say they're just a way for an artist to release an album quickly without having to go to the effort of writing new material, while others enjoy them as they often shine a light on the artists the influenced the artist making the album. I'm quite happy to hear covers albums as long as they're done well, and this one certainly is.
It's been a long time since Chuck Berry released these songs with some dating back to the 50s, and in that time recording technology has changed massively, so that has an immediate impact on the sound when you compare these versions to the originals. The covers all sound fantastic – the guitarists involved are all extremely talented so it's no surprise they put in great performances here.
I'm betting that there are a lot of people out there who know a few of the Chuck Berry hits but have never really listened to much more from him, so a release like this which includes some of his best known songs among the 20 tracks is likely to introduce some of these songs to a new audience.
It's a great covers album – some great songs all performed brilliantly.
Rock'n'Roll, A tribute to Chuck Berry
Track listing:
1. St. Louis Blues
2. Rock and Roll Music
3. Johnny B Goode
4. Wee Wee Hours
5. Memphis
6. I Want to Be Your Driver
7. You Never Can Tell
8. Back in the USA
9. No Particular Place to Go
10. Too Much Monkey Business
11. Havana Moon
12. Promised Land
13. Down Bound Train
14. Maybellene
15. School Days
16. Brown Eyed Handsome Man
17. Reelin' and Rockin'
18. Let It Rock
19. Thirty Days
20. My Ding a Ling
It's a great covers album - some great songs all performed brilliantly.