Mike Ross Releases the Rocking Second Single & its Video from His New Album 'The Clovis Limit Pt.2' 'None of Your Business'

The sophomore single release from Mike's album is the 'None of Your Business'. Musically, this track feels very Lynyrd Skynyrd-like for its underlying hooks and riffs. If this track doesn't set your foot tapping, check no-one's nailed your foot to the floor! The Hook is strong in this one! There are also some surprises to be found, including a dreamy guitar interlude, as well as the driving, take-no-prisoners lead guitar and vocals that carry the track and gives it instant impact.

Mike Ross — a man you can rely on to conjure up fuzz-charged Heavy Blues and powerful Rock, make his guitar soar and sing, and deliver smart-as-a-whip lyrics— will be releasing his new 10-track solo album 'The Clovis Limit Pt. 2' on Friday 30th October.
Check out the video to None of Your Business here
Mike Ross Releases a Special, Limited Edition
Package to Celebrate His Eagerly-Anticipated
Album 'The Clovis Limit Pt.2'
To celebrate and commemorate the launch of 'The Clovis Limit Pt.2′, to thank his fans, and rev it up for the launch, Mike has put together a special, strictly limited-edition package deal:
THE CLOVIS LIMIT Pt.2 'Transitions' SUPER FAN PRE-ORDER PACKAGE. This is available for just £50, and offers a
lot for the money – exclusive items, content, experiences and merch, plus entry to a prize draw.

"I've put together this awesome and exclusive package to thank my fans for all their support," Mike explains, "I really can't wait for everyone to hear the new album. Rehearsals for the launch show are
going amazingly well: it's going to be a barnstormer!"

The bundle includes:
1 x CD Deluxe gatefold 'digipak copy' of 'The Clovis Limit Pt.2′, with exclusive 'audio transitions' between songs and an exclusive bonus track' Unforgiven (Ramport transition)'
1 x ticket* to the online launch show for the record, which will be held on Thursday 29th October 2020 at Electric Studios, Brighton and will feature an augmented full band performance of every track from the new record along with custom multimedia 'transitions'
Support band for the gig will be Brighton-based Blues Rock band The Dead Reds.
A 3-piece merch pack comprising of:
One trucker cap
One 5cm pin badge
One 5cm round vinyl sticker
(All three items display Mike's brand-new MRB 'Meatball' logo.)
1 x 'The Clovis Limit Pt.2 Demos' digital album download.

As to the inspiration behind the song and its message, Mike asks, "Did you ever meet that particular kind of a person who always seemed to think they knew something you didn't? A certain sort of someone that always magically seems to know exactly where you went wrong and has a suggestion as to what you need to do to make it right? Ever encounter a member of that specific species of individuals who really grinds ALL your gears? Maybe a friend, a family member, or someone you work with? Someone you wish would just shut the hell up and get away from you?
"Well, this is a song for that someone!" Indeed it is! And it's well worth listening in detail to Mike's lyrics, which have wit, edge and a deft turn of phrase. Scorn has seldom been so well-phrased and fun!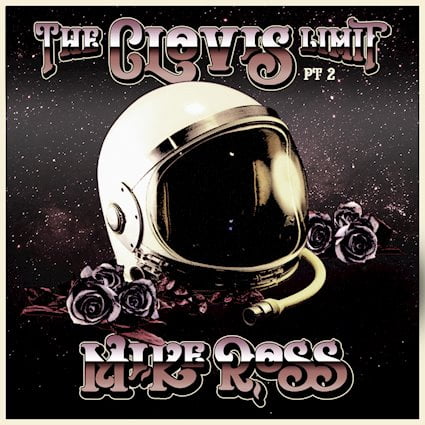 The video gives Mike a chance to rock out with gusto, as a guitarist, as a vocalist and as a performer. Weirdly opalescent and vermillion lighting gives the visuals a striking palette, whilst close-ups allow eagle-eyed viewers a chance to appreciate Mike's guitar work on his Gibson Les Paul.
'None of your Business's parent album'— 'The Clovis Limit Pt.2' — lives up to Mojo Magazine's review of Mike's work as "Fuzzed-up, fierce and full frontal fiery attack coupled with sexy, smooth slidin', Southern soul!" and Planet Rock Magazine's equally-on point praise of "Hypnotic Blues that revel in dark menace." The single is getting well-deserved radio play and has been added to The New Rock Show playlist on Planet Rock.
There are surprises to be found in the album's tracklist and often inside the songs themselves — changes of tempo, melody and instrument, in particular. These add variety, texture, flavour and kick to the menu. One minute, Mike's delivering the fuzz-charged, overdriven guitar for which he's famed (particularly as one of the frontmen trio of powerhouse rockers RHR); the next, he's conjuring sweet, eloquent solos from his instrument. It all fits together better than beer and pretzels.


'The Clovis Limit Pt.2' is out on Friday 30th October (on both physical CD format & Digital release) on Taller Records via Proper Distribution.

Website: www.mikerossmusic.co.uk
Facebook: www.facebook.com/themikerossband
Twitter: twitter.com/spindriftmike
Youtube: www.youtube.com/c/mikerossmusicuk