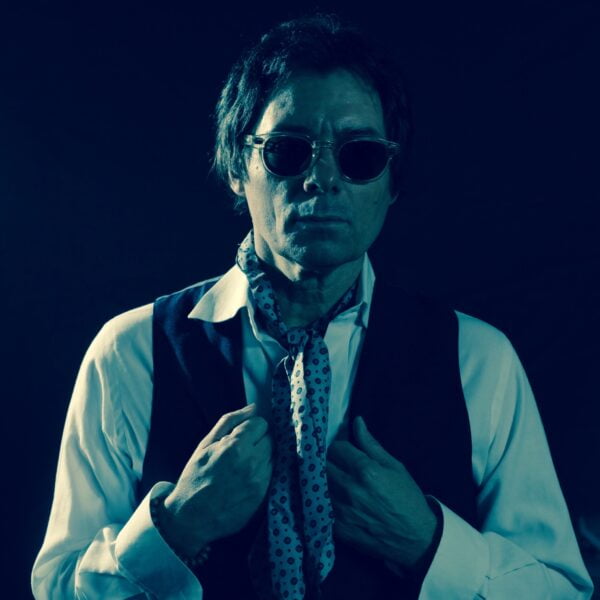 Mick Rossi musician, actor, writer & producer probably most famously known (in the Punk world) as being one of the founding members of Slaughter and the Dogs has just released his debut solo album All the Saints & All the Souls. He was due to come to play in his hometown Manchester earlier this month on the Slaughter Bite Back gig. Covid 19 has postponed that gig twice now and I'm hoping it finally gets to go ahead on the rescheduled date in April 2021.
I put a few questions to Mick about the album and what's in store for fans: –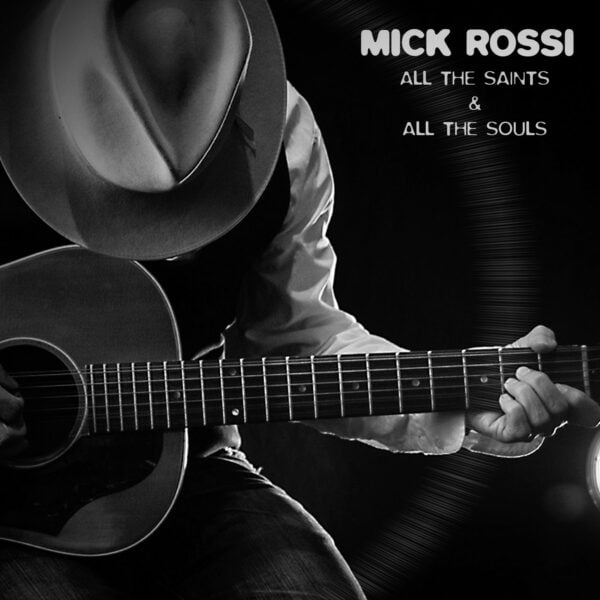 I've just reviewed your new album (here) and I, along with many other diehard SATD fans, was probably expecting something a little more 'Punky' yet the comparisons I picked up were more of the rock 'n' roll greats like The Rolling Stones; Bob Dylan; Fleetwood Mac. I know you like Mick Ronson and David Bowie but which other artists do you listen to and take influence from?
Mick: It would have been an easier road for me had I just emulated what I've already done with Slaughter and the Dogs but it's important to me to grow as a song writer & a musician. I wanted to be free of any boundaries and rules associated with my past and if I want to use a fucking cello – I can!
I try to write from a place of honesty & my life experiences and I think the results in this album reflect that. In this instance I got very lucky, I felt the heroes of my past, in my corner, so to speak. The likes of Bowie and Ronno, who you already referenced are in my DNA and then there was Motown, an early influence shaped by my older brother, Ray, which led me to discover melody. Roxy Music, Marc Bolan & Steve Marriott & the Small Faces had a huge impact on me and of course, let's not forget the great Mott the Hoople. Pete Wylie from Liverpool, is an amazing songwriter. Obviously the giants of the rock n roll world – Tom Petty, Lou Reed, Dylan etc … Billie Eilish is astounding as is Lorde.
I love Oasis, Liam Gallagher – charisma, style and man what a voice! So special. Noel Gallagher is one of the greatest British song writers of any generation! I listen to a variety of artists. My wife is an American Country music fan so I hear quite a bit of Country music too.
I actually felt there was a theme running through the album – birds, wings, flying and ethereal beings – Angels. Was that intentional?
Mick: That's very perceptive of you, Louise but it definitely wasn't intentional. Imagery … birds, wings, ethereal beings, Angels … they come with life & loss, don't they. Subconscious or not. I guess that's what was coming through.
How have you been feeling/coping in lockdown? Have you had time to be more creative? Writing music, films etc?
Mick: Since lockdown, I've made a conscious effort to focus on song writing and complete my new album, which actually wasn't due to be recorded until around now, Covid lockdown ironically gave me the opportunity to record it earlier. I'm currently putting the finishing touches to a new TV show, set in San Francisco, that I'm writing with my partner, Sean Stanek.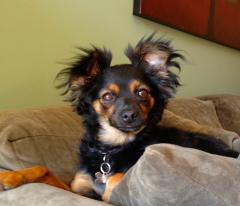 Can you tell us about the song writing process (as it is for you)? Do you tend to write words to fit the music or music to fit the words? Do you prefer to write alone or jam with others? How do you think your song writing has evolved over the years?
Mick: I don't have a set format for writing songs, I think if you sit down and say to yourself 'Today I'm gonna' write a hit record! You're already dead in the water! It doesn't work like that. Inspiration comes at the oddest times, from the simplest of things, it may be a melody that hi-jacks you or a guitar riff that resonates with you or an image that springs to mind. I'm a very visual writer. I enjoy collaborating with other artists. I've co-written & produced several artists over the years. But I have to say being alone in a room with an acoustic guitar and your thoughts is ultimately where it's at for me. Maybe … Marlowe too!
Out of all the songs you've written/co-written which are your personal favourites?
Mick: For me it's always the latest songs that are my personal favourites until the next album… I guess. So for now, it's "Midnight Dream" "Hang On" and I've always loved "East Side of Town" which I co-wrote with Eddie Garrity on the Bite Back album. "Stranded" from Vicious is one of my favourite songs, I really enjoy playing it live.
It was lovely to see Marlowe getting special thanks on the album cover. I know a little about him from attending 'An Evening with Mick Rossi' (review here) but others may wonder who Marlowe is – can you tell us about him?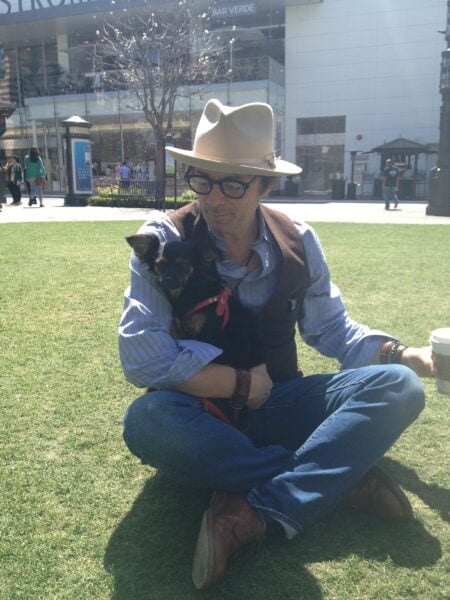 Mick: I certainly can. Marlowe was found on the mean streets of San Bernardino County, CA, he was picked up by a local pound and an LA rescue group called Tails of the City whisked him away and he found his way into our lives. He's street smart & ballsy as befitting any dog! He's a 9lb Russian Terrier & you better not mess with him. On some days, I swear to God, he looks like Ronnie Wood! He hung with me in the studio while I was laying down the tracks to All the Saints & All the Souls.
Marlowe is a rock & roll dog.
Sadly Walter Lure passed away recently not long after you'd been out on tour on his LAMF tour? What was it like touring with Walter? 
Mick: It's still incomprehensible to me that Walter is no longer with us, we were devastated to lose him, a very sad day for all who loved him and a very sad day for Rock & Roll. Mark Reback, Dan Graziano & myself were so fortunate to share the stage with Walter on many a night, and to be up close & personal with the warm, funny man that he was. Walter loved being on stage and particularly loved being in Japan. Our last live shows were in Tokyo and he had a blast, the Japanese audiences adored Walter and he loved them right back. That's how I choose to remember Walter now, joyfully performing in front of those audiences in Japan.
I was (and fingers crossed still am) looking forward to the Slaughter Bite Back show. With The Drones, V2 and The Freshies also playing, this is one stellar line-up for Manchester Punk fans. How do you feel gearing up for a show then finding you've got to reschedule not just once but twice? Do you think it will ever go ahead?
Mick: Absolutely the show will go ahead. I can't wait. As soon as the Covid madness ends, we will be rocking the stage in Manchester. Am so grateful for the love & support everyone has shown us, and Moz Murray has done an amazing job holding it altogether.
Did you see all the other bands on the bill back in the day? What are your favourite memories from the Manchester Punk scene?
Mick: It was a fantastic time to be young and ambitious. We felt we could change the world. Fuck the rules. Do your own thing! Be true to yourself. So I saw many of the bands back then, most notably the Sex Pistols whom we supported that infamous night at the Lesser Free Trade Hall. We also supported Johnny Thunders & the Heartbreakers in Manchester, which is where Walter & I first met. The Damned, The Clash, The Buzzcocks, etc., they all played in Manchester and the shows were exciting, unpredictable and dangerous – you never knew what was coming. They were great times.
Let's finish on an upbeat note. What are you going to pull out from under your famous hat for us in 2021?
Mick: Number one let's make sure the orange horror that is Trump is well out of office. Let's turn that page!
I'm really looking forward to 2021. I'm currently writing another album, this one is gonna' be full on electric. Am also planning to return to Japan at some point to do a tribute concert dedicated to Walter. We have a new album "LAMF Live in Tokyo" coming out in early December on Secret Records. Walter was very proud of the album and was so looking forward to it coming out. I wrote a TV show called BADLAND set in Manchester, a gritty crime genre, I play one of the villains. I'm in the process of setting it up, these things take a long time so fingers crossed!
Thank you for your time. Looking forward to seeing you in 2021!