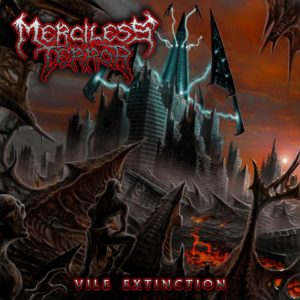 Merciless Terror are set to play the New Blood Stage at this years Bloodstock festival on Sunday the 11th August.
We catch up with the band to find out more about them, the festival, their thoughts and what you lucky Bloodstock go-er's will see!
Can you give the readers a quick introduction to the band?
Dale – Sure, we are Merciless Terror, formed in 2009 and based in and around the Midlands.
How would you describe your sound?
Dale – Straight up Death/Thrash Metal!
Why did you want to become part of the New Blood Stage line up?
Dan – We've all been to Bloodstock for a number of years, which we've grown to love greatly. Being a part of this great festival has been an aspiration for just as long…luckily this year we were invited to play, rather than go through the M2TM.
What was your initial reaction when you found out you where playing on the New Blood Stage?
Dale – Well i initially received a text message from Simon. I didn't have his number so i thought it was a joke at first. When i discovered my leg wasn't being pulled i told the lads the good news and celebrated with a few home brewed ales!
What can the audience expect from you at the festival?
Dan – A straight to the point all out shitstorm of heavy hitting Death/Thrash that will leave everyone with whiplash
Dale – A Brutal taste of an apocalyptic bombardment of absolute aggression and destruction! OR just 4 guys tearing it up with some Death/Thrash battery!
What has been the bands biggest achievement so far?
Dan – Probably playing in Okinawa, Japan at a festival with around 8,000 people. That's a pretty worthy achievement for a band that's only been around for 4 years. Plus finally recording our Debut album is also a great personal achievement, which I'm more than excited to release for you guys.
Have you ever been to Bloodstock before? If so when and what did you enjoy most about it.
Dale – Been a fair few times, I won't lie, its the only Festival I've really been to so i cant compare to others. However it has always been a good laugh; the overall atmosphere, people and the decent mixture of bands make it a great metal holiday!
What is your opinion of the Bloodstock line-up?
Dale – Well The King himself and Slayer performing in one weekend, say no more!
Dan – It's pretty sick! There aren't as many bands that are on my watch list as previous years but the bands that are on there I'm pretty hyped up to see!
What are you looking forward to most at Bloodstock.
Dale – Beer, Metal and no sleep!!!
Dan – EVERYTHING!
Can you sum up Bloodstock in one sentence!
Dan – Metal as Fuck!
Any message you wish to pass on to the PM readers
Dan – Cheers for reading! Come catch our set on Sunday at the New Blood Stage…we'll be playing a few new songs from our debut album 'Vile Extinction'!
Thank you for taking the time out to complete this interview, we are looking forward to seeing you at Bloodstock \m/ \m/
Links:
Facebook: https://www.facebook.com/MercilessTerror
Website: www.mercilessterror.com