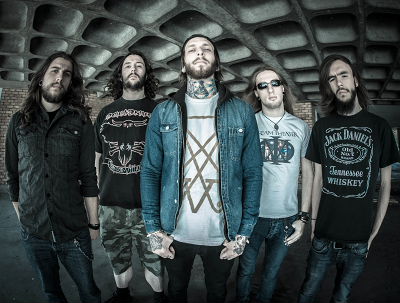 Eridium are set to play the New Blood Stage at this years Bloodstock festival on Sunday the 11th August.
We catch up with the band to find out more about them, the festival, their thoughts and what you lucky Bloodstock go-er's will see!
Can you give the readers a quick introduction to the band.
We're a 5 piece metal band from Norwich who has been gigging since June 2012. Since then, we've been victorious in both 2013 M2TM and Oakwood competitions. We're in the process of recording our debut EP – 'Sic Parvis Magna', including a song called 'Cell Hell' about Randy Blythes incarceration, which you can check it out at www.reverbnation.com/eridiumofficial.
How would you describe your sound.
Groovy and heavy as fuck!
Why did you want to become part of the New Blood Stage line up?
Bloodstock is such a huge metal festival, and the M2TM competition has completed our dream debut year (ish, more like 15 months).
What was your initial reaction when you found out you where playing on the New Blood Stage?
Relief – All of the hard work we put in before (and during) the M2TM competition paid off.
What can the audience expect from you at the festival?
To bring the fucking riffs! And then there's what we expect… The crazy lot in Norwich and Great Yarmouth know exactly what we expect. See you there guys \m/
What has been the bands biggest achievement so far?
100% without a shadow of doubt, the performance at Bloodstock will be our biggest achievement.
Have you ever been to Bloodstock before? If so when and what did you enjoy most about it.
Shockingly, 2013 will be the first year any of Eridium gets to enjoy Bloodstock. We've heard good things!!
What is your opinion of the Bloodstock line-up.
Incredible! Lamb of God, DevilDriver, Gojira, Xerath, Slayer, Kataklysm, and Anthrax. Amazing bands, and we're looking forward to drinking with them in the VIP bar. (Yes, VIP)
What are you looking forward to most at Bloodstock.
The excitement of going on to the stage.
The satisfaction of seeing a crowd go balls out mental during every one of our tracks.
The relief of nailing our set.
Lamb of God and DevilDriver!
(Watching Jim make a fool out of himself!)
Can you sum up Bloodstock in one sentence!
This is a festival J
Any message you wish to pass on to the PM readers.
If you like your metal heavy, loud and energetic you'd better come and check us out! And if Jim dives you guys better catch him!
Thank you for taking the time out to complete this interview, we are looking forward to seeing you at Bloodstock \m/ \m/
Links:
www.facebook.com/eridiumofficial
www.twitter.com/eridiumofficial
www.reverbnation.com/eridiumofficial