It's been 34 years since the first Megadeth album came out – and I'm sure that fact will make a few people reading this feel old as like me they remember the release of it. In that time we've had 15 studio albums, five live releases and half a dozen compilations. Now there's a new compilation being released. Why is it of interest? Well put simply, this is the biggest and best Megadeth compilation to date. It features 35 tracks spread over three CDs and has been put together by Dave Mustaine.
The first half of the compilation (all of disc one and half of disc two) is made up of songs from the first four studio albums – the second half is taken from the subsequent eleven studio albums. It makes sense for a number of reasons – firstly those early albums are the ones that are most significant in terms of defining the band's sound and building their fanbase. Secondly if you've bought a Megadeth album recently, the chances are it's either one of the latest albums or one of the recent reissues, so in that respect it would't make sense for this release to focus too much on the newest material.
With any compilation like this, everyone will have their own opinion of the tracks selected – everyone has their own particular favourite songs, and any album that omits those gets criticsm, so realyl you'll never be able to please everyone. Having said that, Dave Mustaine has given it a damn good try. What he's put together is a selection that take us through the history of Megadeth from the first album right up to the present with a fantastic choice of songs. For any fans who just have a couple of Megadeth albums, this compilation is a great purchase as it gives some of the best songs from most of the albums. Obviously if you're a hardcore fan who already owns all the albums then it's less of an attractive purchase and in that situation is only for completists.
A great compilation album full of top quality Megadeth tracks.
"Warheads on foreheads" will be released on 22nd March 2019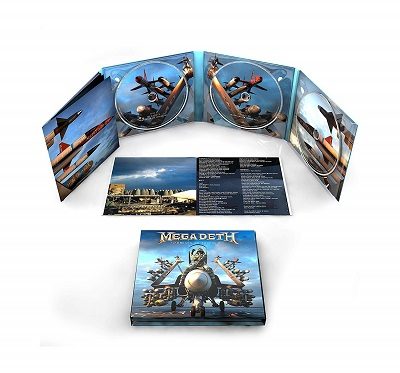 Disc: 1
1. Rattlehead
2. Mechanix
3. Killing Is My Business…And Business Is Good!
4. The Conjuring
5. Wake Up Dead
6. Devils Island
7. Good Mourning / Black Friday
8. Set The World Afire
9. In My Darkest Hour
10. Holy Wars…The Punishment Due
Disc: 2
1. Hangar 18
2. Tornado Of Souls
3. Rust In Peace…Polaris
4. Five Magics
5. Take No Prisoners
6. Skin O' My Teeth
7. Angry Again
8. Symphony Of Destruction
9. Sweating Bullets
10. A Tout Le Monde
11. Train Of Consequences
12. Reckoning Day
Disc: 3
1. Trust
2. She-Wolf
3. Wanderlust
4. Dread and the Fugitive Mind
5. Blackmail The Universe
6. Washington Is Next!
7. Head Crusher
8. Public Enemy No. 1
9. Kingmaker
10. The Threat Is Real
11. Poisonous Shadows
12. Death From Within
13. Dystopia
A great compilation album full of top quality Megadeth tracks