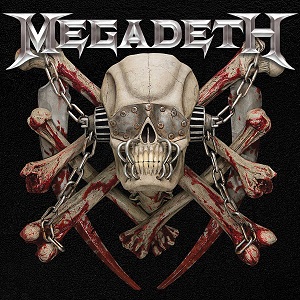 Megadeth have been around for 35 years now, and are reissuing their classic album "Killing is my business…and business is good". The reissue carries the title "The final kill" and it's been restored and remixed by Mark Lewis (Whitechapel) and remastered by Ted Jensen to match Dave Mustaine's original vision.
Obviously a "final" reissue isn't going to just be a remixed/remastered copy of the original album – there's bonus material too – seven live tracks where the audio was taken from some VHS tapes Dave Mustaine had in his attic. There's also the 1984 demo "Skull beneath the skin". The cover of "These boots" (written by Lee Hazelwood but made famous by Nancy Sinatra) that was on the original release of the album but disappeared from later issues has been added back in and this track has re-recorded vocals.
The release has a new album cover featuring a fully executed sculpture of the iconic skull that has been lost over the many years since the album's initial release. The packaging also includes classic flyers and band photos pulled from their archive of timeless metal moments from Megadeth's 35 year history.
Dave Mustaine has also contributed liner notes delving into the struggles during that time period as well as some of the surprising moments during the remixing sessions.
This is an album I've always loved, but listening to the new reissue, it really does sound so much better than the original release – it's clearer and sharper with more detail coming through, and it's louder. As a remix/remaster it's a big success and that's before considering the bonus content.
The live tracks are a great addition to the release, as are the demo tracks. One nice bit about the live tracks is that they aren't trimmed down to just the songs – they've kept all Dave Mustaine's talking to the crowd as he introduces the songs, and it's stuff like that which just makes it even better.
It's a fantastic reissue – highly recommended for all Megadeth fans.
"Killing Is My Business….And Business Is Good: The Final Kill" will be released on 8th June 2018
Track listing:
1. Last Rites / Loved to Deth (04:44)
2. Killing Is My Business…And Business Is Good! (03:08)
3. The Skull Beneath the Skin (03:48)
4. Rattlehead (03:43)
5. Chosen Ones (02:53)
6. Looking Down the Cross (05:03)
7. Mechanix (04:25)
8. These Boots (03:42)
*- Live Tracks – *
9. Last Rites / Loved to Deth (live) (1987 London, UK) (04:48)
10. Killing Is My Business…And Business Is Good! (live) (1986 Denver, CO) (04:08)
11. The Skull Beneath the Skin (live) (1990 London, UK) (03:36)
12. Rattlehead (live) (1987 Bochum, Germany) (04:05)
13. Chosen Ones (live) (1986 Denver, CO) (03:49)
14. Looking Down the Cross (live) (1986 Denver, CO) (04:40)
15. Mechanix (live) (1986 Denver, CO) (03:47)
– "Skull Beneath The Skin" Demo 1984 –
16. Last Rites / Loved to Deth (demo) (04:15)
17. The Skull Beneath the Skin (demo) (03:12)
18. Mechanix (demo) (Remastered) (04:00)
A fantastic reissue of a classic album. It sounds bette than ever and there's enough bonus material to make it an essential purchase