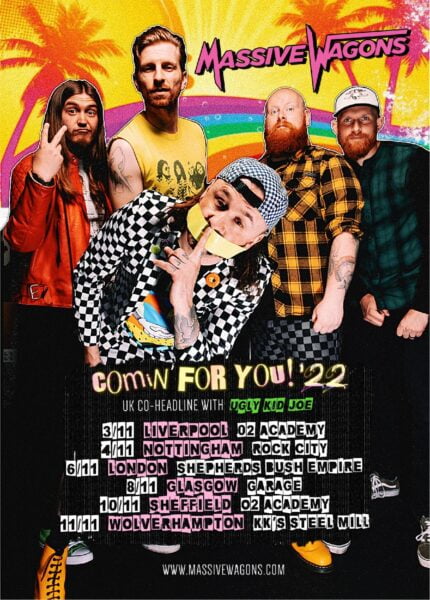 Crash bang wallop! No, this isn't the title of the new studio album from Massive Wagons, released on October 28th 2022 via Earache Records but it could be as 'Triggered' to my ears is the heaviest they've recorded musically and lyrically.
Formed in Lancaster 2009 I was lucky to catch one of their early gigs as they showed great promise at the Sanctuary in Burnley, supporting ex AC/DC vocalist Dave Evans. The thirteen songs here are definitely not unlucky for them as the album opens heavily with 'Fuck The Haters', also the first single taken from it. It tackles the sheer absurdity of bullying at all levels lyrically and musically as this rocker is fired up by a headbangingly main riff and a bug eyed vocal rant from Barry 'Baz' Mills as nirvana is reached by shout em out loud and proud choruses.
Latest single 'Please Stay Calm' has a curious curveball but still gets a home run via pop punk earworms. It's also very intense that sees them up their songwriting ante to the max! Razor sharp riffs and a spine tingling laid back guitar solo make for an early album highlight.
'Generation Crime', also released as a single is a vehement vocal tirade spat out so fast it could leave auctioneers speechless. Baz shares vocal duties with Benji Webbe from Skindred that highlights the state of modern society with its I want it now, now, now attitude. Tinges of reggae, snappy snare drums and ear grabbing riffs hit the headlines.
Billy Duffy would love the main riff of 'A.S.S.H.O.L.E' as the band lock in for a full on thud and chant out the songs title letter by letter to hammer their point home. It gets even more manic by an hilarious spoken word midsection and full on rock out outro.
Another tirade bursts through 'Skateboard' a short but still sharp dambuster due to the shattering riffs as Baz crams as many lyrics as he possibly can to grab what's left of the summer sunshine.
'Gone Are The Days' will surely soon be an addition to their arsenal of bitter sweet anthems. A twin guitar attack from Stevie Holl and Adam Thistlethwaite that's air guitar heaven kept in check by kick drum overload from Alex 'Roy' Thistlethwaite to rattle any P.A system its pumped through and the lyrics are beauty personified.
'Triggered' is a sassy and an also classy whimsical wheeze as tongue in cheek lyrics enchant over bass guitar bombast from Adam 'Bowz' Bouskill and twin lead mayhem.
'Giulia' is a quirky piece of a preached like vocal as Baz hollers like a town crier over gnarly grooves for a clattering four minutes of angst.
'Germ' is an infectious number of pure punk rock, especially from the chest beating choruses.
A good old Southern rock hoedown sees 'Never Been A Problem' get down and dirty of feel good riffing and a proclamation from Baz of "I don't look like a model and my language is obscene, I don't sing like an angel, my face tells you where I've been".
'Big Time' is a dirt under the fingernails song without any pretentiousness. A hard rocker that has stadium filling choruses that rocket skywards!
Proto punk pogo inducing grooves sees 'Sawdust' buzz down the tracks on hot rails to hell velocity and a moment of calm comes from orchestral strings midway until it ends on a fretboard burning guitar solo.
The album ends on a bang with the football terrace like vocal delivery of 'No Friend Of Mine'. Riffs match the ire that run through the songs veins as those sweeping strings add one final flourish until those ear gouging guitars return with menace and a snare driven outro.
Pre-release links to Triggered and other band info are here :- https://linktr.ee/MassiveWagons I https://www.facebook.com/MassiveWagons
Triggered will be available as a signed CD, Cassette, Digital Download, clear/blue splatter, green, orange and pink vinyl. Also, six white vinyl editions as part of a special collectors bundle, featuring six different front and back covers.
Triggered album track listing :-
Fuck The Haters.
Please Stay Calm.
Generation Prime.
A.S.S.H.O.L.E.
Skateboard.
Gone Are The Days.
Triggered.
Giulia.
Germ.
Never Been A Problem.
Big Time.
Sawdust.
No Friend Of Mine.
Massive Wagons band personnel :-
Barry 'Baz' Mills – Lead Vocals.
Adam Thistlethwaite – Guitar.
Stevie Holl – Guitar.
Adam 'Bowz' Bouskill – Bass Guitar.
Alex 'Roy' Thistlethwaite – Drums.
Baz sums up Triggered as "I think this album is a lot more British sounding. I think we've managed to bring our sound more up to date. It sounds fresh and exciting. It has more of a punk vibe ".
"There are some very passionate songs in there. We all dug really deep in this one, some of them were a real labour of love. I think we truly have made our best album yet".
Load up your music system for Triggered, brand new studio album from Massive Wagons!