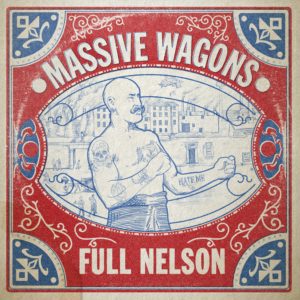 Even by the standards Massive Wagons have set by their three previous studio albums they have raised the bar higher with Full Nelson, due to be released via Earache Records on August 10th 2018.
Featuring ten brand spanking new tracks and two from previous album Welcome To The World added by the record company, they kick in with opener 'Under No Illusion', a bona fide rock radio number. Melodies resonate in your head from the off backed by huge Slade like riffs and they even throw in a few "Whoa oh oh's" for good measure! 'China Plates' (rhyming slang for mates) is already a live favourite as lead singer Baz Mills vents anger towards social networking over a backdrop of relentless riffing. The curiously titled 'Billy Balloon Head' sees Baz pushing his vocals to the max by delivering some long notes. 'Sunshine Smile' is another hook laden number that grabs a hold of your ears and doesn't let go until the infectious choruses and bar room boogie grooves subside.
  'Northern Boy' wears its heart on its sleeve with personal lyrics backed up by piercing lead guitar work from Adam Thistlethwaite. Future single 'Robot (Trust In Me)' sees a shift in delivery as an almost spoken word rant is bellowed out over industrial like grooves. The utterly monstrous tribute to Rick Parfitt and current set opener 'Back To The Stack' with the chorus of "Back to the stack, maximum attack, you know you know you know!" should have you singing along and if your neighbours are not banging the walls when you do, you're not doing it right! 'Hate Me' is no frills heavy rock with a monotone vocal backed by a simple but effective main riff.
Melody with muscle, a phrase I often use, perfectly describes 'Last On The List' that flows with a Scorpions vibe. The enthralling 'Ballad Of Verdun Hayes' tells the tale of him at 101, became the oldest skydiver who did a tandem jump with three generations of his family as Baz sings "That man's a 101, still going strong, does what he wants, listens to no one". Full Nelson closes with the two previously mentioned old tracks 'Ratio' and 'Tokyo'. The first is a slow burner that surges on an avalanche of riffs and a showstopping lead vocal and the second is one of my personal favourites, a true anthem when the choruses kick in.
Full Nelson album track listing :-
Under No Illusion.
China Plates.
Billy Balloon Head.
Sunshine Smile.
Northern Boy.
Robot (Trust In Me).
Back To The Stack.
Hate Me.
Last On The List.
Ballad Of Verdun Hayes.
Ratio.
Tokyo.
Massive Wagons have wrestled these songs into shape so as to deliver a full nelson not a half one.