Aussie Rockers MASSIVE have announced more shows on their "10 years, still Massive" Tour. 
The band have also announced that both Nottingham and Manchester have now completely sold out while the London show will sell out soon.
These events are rescheduled events and tickets purchased previously are still valid.
Massive will be playing songs from all three albums as well as new tracks off an unreleased 4th album.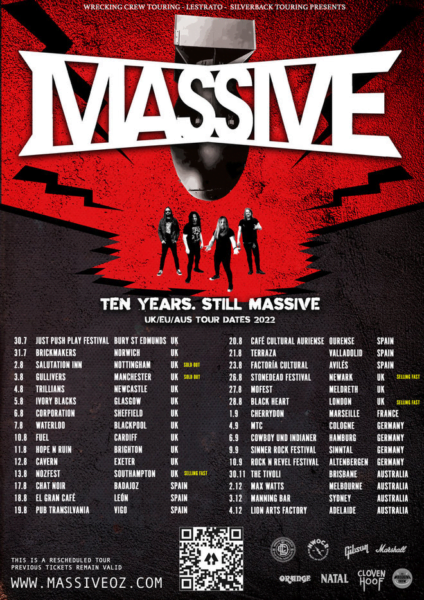 Massive On Tour
30.7 – Just Push Play festival – Bury UK
31.7 – Brickmakers – Norwich UK
2.8 – Salutation Inn – Nottingham UK – SOLD OUT
3.8 – Gullivers – Manchester UK – SOLD OUT
4.8 – Trillians – Newcastle UK
5.8 – Ivory Blacks – Glasgow UK
6.8 – Corporation – Sheffield UK
7.8 – Waterloo – Blackpool UK
10.8 – Fuel – Cardiff UK
11.8 – Hope N Ruin – Brighton UK
12.8 – Cavern – Exeter UK
13.8 – Nozfest – Southampton UK – SELLING FAST
17.8 – Chat Noir – Badajoz Spain
18.8 – El Gran Café – León Spain
19.8 – Pub Transilvania – Vigo Spain
20.8 – Café Cultural Auriense – Ourense Spain
21.8 – Terraza – Valladolid – Spain
23.8 – Factoría Cultural – Avilés Spain
26.8 – Stonedead Festival – Newark UK – SELLING FAST
27.8 – Mofest – Meldreth UK
28.8 – Black Heart – London UK SELLING FAST
1.9 – Cherrydon – Marseille France
4.9 – MTC – Cologne Germany
6.9 – Hamburg Und Indianer – Hamburg Germany
9.9 – Sinner Rock Festival – Sinntal Germany
10.9 – Rock N Revel Festival – Altenbergen Germany
30.11 – The Tivoli – Brisbane Australia*
2.12 – Max Watts – Melbourne Australia*
3.12 – Manning Bar – Sydney Australia*
4.12 – Lion Arts Factory – Adelaide Australia*
*Supporting Buckcherry and Fozzy
Follow Massive
https://www.facebook.com/MassiveOz/ | https://www.facebook.com/MassiveOz/ | https://www.youtube.com/user/massiverock1 | https://twitter.com/massiveoz