Following their successful February 2022 UK tour, King King is pleased to announce that critically acclaimed blues-rock guitarist Danny Bryant will be their special guest at Lytham Lower Pavilion on Thursday 28th July, Holmfirth Picturedrome on Friday 29th July, and Castleton Devil's Arse Cave on Saturday 30th July.
King King is also pleased to announce that Canadian rock band The Damn Truth will be their very special guests on all their October 2022 UK tour dates.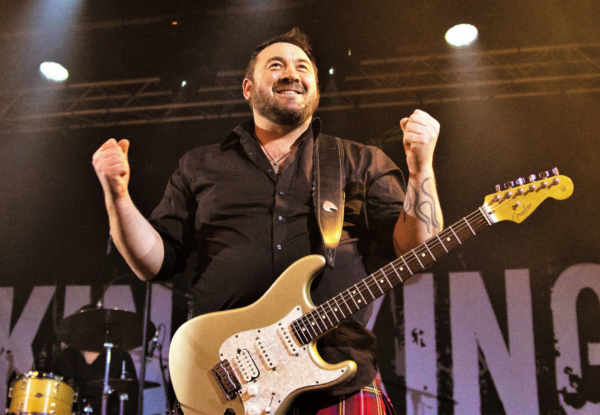 Tickets are available from www.thegigcartel.com, except King King's Hangar 34 concert in Liverpool on Friday 21st October, where tickets are available from www.ticketweb.uk.
King King's October headline concerts with special guests The Damn Truth include Northampton Roadmender (Oct 16), Southampton 1865 (Oct 20), and Liverpool Hanger 34 (Oct 21).
King King will also perform three Planet Rock Rocktober concerts at Bristol O2 Academy (Oct 15), London's O2 Shepherd Bush Empire (Oct 18) and O2 Sheffield Academy (Oct 22). The Damn Truth will perform at the Bristol and London Planet Rock Rocktober shows.
King King received critical acclaim from their current studio album Maverickwhich is available on CD and various bundles from www.kingking.co.uk.
Maverick features King King's new line-up – Alan Nimmo (vocals, guitar), Stevie Nimmo (guitar), Jonny Dyke (organ, piano), Zander Greenshields (bass) and Andrew Scott (drums).
Produced by Alan Nimmo, Jonny Dyke and Liam McCluskey at Morsecode Studios in Glasgow, Maverick was engineered and mixed by Liam McCluskey and was co-written by Alan Nimmo, Zander Greenshields, Jonny Dyke, and Andrew Scott, with lyrics co-written by Alan Nimmo and newest member Stevie Nimmo.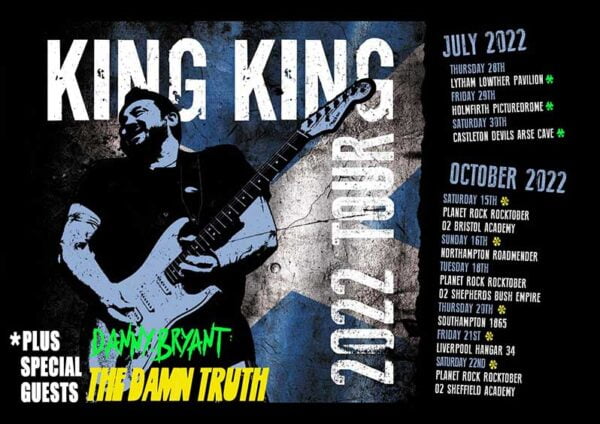 KING KING
JULY & OCTOBER  2022 UK TOUR
WITH SPECIAL GUESTS
*DANNY BRYANT
**THE DAMN TRUTH
TICKETS:
WWW.TICKETWEB.UK (LIVERPOOL)
24 HOUR BOX OFFICE: 0844 478 0898
*Lytham Lowther Pavilion
Thursday 28 July 2022

*Holmfirth Picturedrome
Friday 29 July 2022

*Castleton Devil's Arse Cave
Saturday 30 July 2022
**O2 Bristol Academy
Planet Rock's Rocktober
Saturday 15 October 2022

**Northampton Roadmender
Sunday 16 October 2022
**London O2 Shepherds Bush Empire
Planet Rock's Rocktober
Tuesday 18 October 2022

**Southampton 1865
Thursday 20 October 2022

**Liverpool Hangar 34
Friday 21 October 2022
**O2 Sheffield Academy
Planet Rock's Rocktober
Saturday 22 October 2022