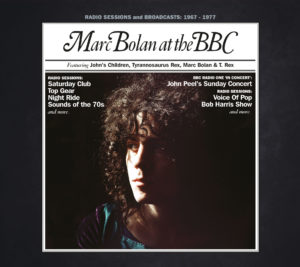 Even though i was brought up on early 1970's glam rock, I only ever bought the odd 45rpm single by Marc Bolan now and then so after all these years the chance to make up for lost time by reviewing this stunning 6CD boxset was welcomed. The boxset is made up of 117 tracks,10 of which are solely interviews and 6 of the remaining tracks have mini interviews within the songs. There are also 2 beautiful renditions of Marc's poetry,narrated by himself. As the title suggests all of these tracks are all from BBC  recordings with almost half of them previously unreleased and some that have are now expanded from their original length.
Released on August 26th 2013 via Universal Music,it has taken 5 years of research and compilation to now be available by Bolan afficianado Clive Zone by gaining access to ultra rare reel-to-reel tapes and BBC transcription discs covering Marc's career from John's Children,Tyrannosaurus Rex to T.Rex. Aside from the 6CD box set there will be a simultaneous 2CD release called Marc Bolan At The BBC – The Best Of The BBC Recordings.
So onto the music with my favourite tracks as follows. CD1 opens with the one and only session recorded by John's Children and was broadcast by the BBC Radio One Saturday Club in June 1967 made up of 5 tracks. Jagged Time Lapse is almost punk rock intensity,followed by a brief interview with Marc explaining how the band works. The Perfumed Garden Of Gulliver Smith is very raw with crashing chords with an almost Quo type boogie midway with the song ending with drum patterns that Keith Moon would be proud of. Daddy Rolling Stone is drum driven heavy rock and final track Hot Rod Mama has a garage rock vibe like MC5. The remainder of CD1 consists of 5 Tyrannosaurus Rex sessions from John Peel's Top Gear programme between Nov.1967 to Dec.1968 with John introducing the tracks with his inimitable dry wit.
After a disastrous debut gig Marc stripped down the band to just himself on acoustic guitar and Steve Took on drums/percussion so the music was a far cry from the John's Children material as proven by the Eastern tinged Dwarfish Trumpet Blues sounding a bit like Paint It Black by the Stones. Pictures Of Purple People begins with a brief explanation of the song by Marc,a wistful display of power pop and Hot Rod Mama played on acoustic guitar and bongos is as far removed from the John's Children version. Frowning Atahuallpa (My Inca Love) has a wailing vocal with a spoken word piece from John Peel midway. Stacey Grove has a summer breeze type vibe whereas One Inch Rock is uptempo folk rock. Juniper Pony is first heard in poetry form then in song with Marc putting a lot of vocal vibrato in and it includes a brief John Peel interview asking Marc if the song would get radio airplay. In 1968 Steve Took was fired after their first U.S tour.
CD2 consists of 4 Top Gear sessions and 3 interviews from 1969 and an In Concert performance broadcasted on New Years Day 1970. Pewter Suitor,introduced by John Peel is a 1 minute long adrenaline rush. Nijinsky Hind is a quirky folk number from the then forthcoming album Unicorn. 3 poems are included,the 1st 2 were originally untitled but became A Star Of Youth and A Ship Of Rhythm. The 3rd poem is The Winged Man With Eyes Downcast To The Moon and all 3 poems include interviews. Pavillions Of Sun is uptempo folk with an electric guitar solo. Wind Cheetah is another electric with the guitar following the vocal line and also the wah-wah solo. The final 7 tracks are taken from the In Concert programme and has 2 electric songs and 5 acoustic and once again,John Peel introduces them. A 7 minute electric Elemental Child begins with chiming guitar chords and heads into a big guitar workout straying into almost Amboy Dukes territory and final track The Wizard (which was Marc's first single release) is a 9 minute acoustic jam.
CD3 contains more gems all from 1970 with a  Top Gear session ,a Sounds Of The 70's session,2 songs from a long lost Bob Harris session,a Dave Lee Travis session and 5 songs for a John Peel Sunday In Concert. The Top Gear session has 4 tracks,a very raw Ride A White Swan with some lovely guitar sustain,a choppy Jewel with wah-wah guitar,a marathon riff heavy Elemental Child and a haunting acoustic called Sun Eye. There is an interesting cover of Summertime Blues which is almost rockabilly at times and a very stripped down Hot Love. Once again the tracks on the  live John Peel session are introduced by him and includes  another lengthy Elemental Child as Marc's vocal delivery almost goes off the scale. Ride A White Swan is so guitar heavy it almost drowns out the vocal and an 8 minute Jewel is almost 3 times as long as the original due to an extended guitar workout. Deafening applause throughout this session! Steve Took was replaced by Mickey Finn and heralded Marc's return to playing electric guitar and changed the band name to T.Rex after the release of the Beard Of Stars album.
CD4 shifts to 1971/72 with 2 sessions from the BBC Radio One Club in March and July 71,a BBC Radio One Bob Harris Sounds Of The 70's from August 71,a Peter Powell show from Jan 72 + 3 interviews,2 from 71 and one from 72. Woodland Rock rocks along like Long Tall Sally by Little Richard and a subdued Hot Love is a far cry from the take that hit the charts. An interview with Keith Altham includes Marc talking about the transition of playing acoustic to electric and a brief run through of Electric Boogie sounds huge! From the Bob Harris session,Sailors Of The Highway is a slow burner that ends in an electric guitar frenzy in complete contrast to a beautiful lilting acoustic Girl. The session ends with a raucous acoustic/electric Life's A Gas. CD4 closes with an in depth 15 minute interview,once again with Keith Altham. In 1971 Marc expanded the band by adding bass guitarist Steve Currie and drummer Bill Legend.
CD5 contains all mixes done exclusively for the BBC between 1972/73 including over 30 minutes of interviews with Marc. After a raucous Metal Guru,a 7 minute interview follows with Marc talking about dealing with fame and the making of the Electric Warrior album. The title track from Slider is heavy blues with a low range vocal and Rock On does exactly what the title says it does. A 14 minute interview with Johnny Moran covers the recording of the Slider album,struggling with the trappings of fame and his poetry. A frantic run through of Solid Gold Easy Action has some scorching guitar work preceding a raw,heavy take of Children Of The Revolution. An interview with Nicky Horne begins with the story behind 20th Century Boy but the remainder of it sees him upsetting Marc when he accuses him of sticking to a basic formula of songwriting. A heated conversation to say the least! An anthemic version of The Groover with piercing electric guitar lines is followed by a fuzzed up take of  Midnight that appeared on the Tanx album.
The mixes on CD6 cover the T.Rex period from 1973/77 with an interview with Anne Nightingale disassociating himself from the tag of glam rock followed by an oddity called Black Jack under the name of Big Carrot as Marc is not on vocals and can only be described as T.Rex crossed with Martha And The Vandelles! A stripped down take of Teenage Dream is followed by probably the best interview on the boxset by Michael Wale as he lets Marc do most of the talking after some well thought out questions in its 12 minute length. Light Of Love has an almost Motown vibe and a keyboard heavy Zip Gun Boogie is fantastic! Dreamy Lady which appeared on the Futuristic Dragon album has prominent bass guitar and keyboards and there is a catchy cover of Do You Wanna Dance written by Bobby Freeman in 1958. 2 interviews follow from Anne Nightingale  and David Hamilton respectively discussing Marc's transition from acoustic to electric and his approach to live shows. The box set is available on pre-order from Amazon,retailing at £49.99. An absolute bargain!
Track listings:
Disc: 1
1. Jagged Time Lapse – John's Children
2. Interview With John Hewlett- John's Children
3. The Perfumed Garden Of Gulliver Smith – John's Children
4. Daddy Rolling Stone – John's Children
5. Hot Rod Mama – John's Children
6. Top Gear Jingle – Marc Bolan
7. Highways (With Chat) – Tyrannosaurus Rex
8. Dwarfish Trumpet Blues (With Chat) – Tyrannosaurus Rex
9. Scenescof (With Interview) – Tyrannosaurus Rex
10. Child Star (With Interview) – Tyrannosaurus Rex
11. Pictures Of Purple People (With Interview) – Tyrannosaurus Rex
12. Hot Rod Mama (With Interview) – Tyrannosaurus Rex
13. Knight (With Chat) – Tyrannosaurus Rex
14. Frowning Atahuallpa (With Chat) – Tyrannosaurus Rex
15. Strange Orchestras – Tyrannosaurus Rex
16. Afghan Woman (With Chat) – Tyrannosaurus Rex
17. Deborah (With Chat) – Tyrannosaurus Rex
18. Mustang Ford (With Chat) – Tyrannosaurus Rex
19. Stacey Grove (With Chat) – Tyrannosaurus Rex
20. One Inch Rock (With Chat) – Tyrannosaurus Rex
21. Salamanda Palaganda (With Chat) – Tyrannosaurus Rex
22. Eastern Spell (With Chat) – Tyrannosaurus Rex
23. Wind Quartets (With Chat) – Tyrannosaurus Rex
24. Juniper Suction (Poem) – Tyrannosaurus Rex
25. Juniper Suction (With Interview) – Tyrannosaurus Rex
26. The Friends (With Chat) – Tyrannosaurus Rex
27. Consuela (With Chat) – Tyrannosaurus Rex
28. The Seal Of Seasons (With Chat) – Tyrannosaurus Rex
29. Evenings Of Damask (With Chat) – Tyrannosaurus Rex
30. The Travelling Tragition – Tyrannosaurus Rex
Disc: 2
1. Pewter Suitor (With Chat) – Tyrannosaurus Rex
2. Interview With Brian Matthew – Tyrannosaurus Rex
3. Chariots Of Silk – Marc Bolan, T. Rex
4. Once Upon The Seas of Abyssinia (With Chat) – Tyrannosaurus Rex
5. Nijinsky Hind (With Chat) – Tyrannosaurus Rex
6. The Misty Coast of Albany (With Chat) – Tyrannosaurus Rex
7. Iscariot (With Chat) – Tyrannosaurus Rex
8. A Star of Youth – Poem With Chat – Tyrannosaurus Rex
9. A Ship Of Rhythm – Poem With Chat – Tyrannosaurus Rex
10. The Winged Man With Eyes Downcast To The Moon – Poem With Chat – Tyrannosaurus Rex
11. Interview With Brian Matthew – Tyrannosaurus Rex
12. Fist Heart Mighty Dawn Dart – Marc Bolan, T. Rex
13. Pavilions Of Sun – Marc Bolan, T. Rex
14. A Day Laye – Marc Bolan, T. Rex
15. By The Light Of A Magical Moon – Marc Bolan, T. Rex
16. Wind Cheetah – Marc Bolan, T. Rex
17. Hot Rod Mama – Tyrannosaurus Rex
18. Deborah – Tyrannosaurus Rex
19. Pavilions Of Sun – Tyrannosaurus Rex
20. Dove – Tyrannosaurus Rex
21. By The Light Of The Magical Moon – Tyrannosaurus Rex
22. Elemental Child – Tyrannosaurus Rex
23. The Wizard – Tyrannosaurus Rex
Disc: 3
1. Ride A White Swan – Marc Bolan, T. Rex
2. Jewel – Marc Bolan, T. Rex
3. Elemental Child – Marc Bolan, T. Rex
4. Sun Eye – Marc Bolan, T. Rex
5. My Baby's Like A Cloudform – T. Rex
6. Funk Music – T. Rex
7. Summertime Blues – Marc Bolan, T. Rex
8. Jewel – Marc Bolan, T. Rex
9. Hot Love – Marc Bolan, T. Rex
10. Debora – T. Rex
11. Elemental Child – T. Rex
12. Woodland Bop Medley: Woodland Bop/ Consuela / The King Of The Mountain Cometh / Woodland Bop – T. Rex
13. Ride A White Swan – T. Rex
14. Jewel – T. Rex
Disc: 4
1. Woodland Rock – Marc Bolan, T. Rex
2. Beltane Walk – Marc Bolan, T. Rex
3. Seagull Woman – Marc Bolan
4. Hot Love – Marc Bolan, T. Rex
5. Interview With Keith Altham – T. Rex
6. Jeepster – Marc Bolan, T. Rex
7. Get It On – Marc Bolan, T. Rex
8. Electric Boogie – Marc Bolan, T. Rex
9. Bob Harris Jingle – Marc Bolan, T. Rex
10. Sailors Of The Highway – Marc Bolan, T. Rex
11. Girl – Marc Bolan, T. Rex
12. Cadillac – Marc Bolan, T. Rex
13. Jeepster – Marc Bolan, T. Rex
14. Life's A Gas – Marc Bolan, T. Rex
15. Christmas Jingle – Marc Bolan, T. Rex
16. Interview with Tony Norman – T. Rex
17. Telegram Sam – Marc Bolan
18. Interview With Keith Altham – T. Rex
Disc: 5
1. Metal Guru – T. Rex
2. Interview With Andrew Salkey – T. Rex
3. The Slider – T. Rex
4. Mystic Lady – T. Rex
5. Rock On – T. Rex
6. Main Man – T. Rex
7. Interview With Johnny Moran – T. Rex
8. Children Of The Revolution – T. Rex
9. Solid Gold Easy Action – T. Rex
10. 20 th Century Boy – T. Rex
11. Free Angel – T. Rex
12. Interview With Nicky Horne – T. Rex
13. Rapids – T. Rex
14. Mad Donna – T. Rex
15. The Groover – T. Rex
16. Midnight – T. Rex
Disc: 6
1. Interview With Annie Nightingale – T. Rex
2. Blackjack (Big Carrot) – T. Rex
3. Truck On (Tyke) – T. Rex
4. Sitting Here – T. Rex
5. Teenage Dream – T-Rex
6. Interview With Michael Wale – T. Rex
7. Light Of Love – T. Rex
8. Explosive Mouth – T. Rex
9. Zip Gun Boogie – T. Rex
10. Space Boss – T. Rex
11. New York City – T-Rex
12. Dreamy Lady – T. Rex
13. Do You Wanna Dance – T. Rex
14. Interview – T. Rex
15. Interview – T. Rex
16. I Love To Boogie – T. Rex
17. Celebrate Summer – T. Rex