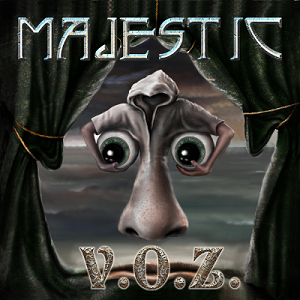 Majestic is the musical project of Jeff Hamel, who writes all the music as well as palying guitar and keyboards.  He's joined by other musicians and vocalists to record this album.  It's a double album, with the first disc consisting mainly of a ten track opus.
Musically it's Prog rock with lots of long instrumental sections or songs.  As well as the keyboards and guitars there are other instruments – bagpipes for instance at the start of "In memory of".  There are also a lot of extra sound effects used to add atmosphere, but really the keyboards and guitar are the dominant force musically.  It's seriously impressive stuff – when I put it on the first time I'd actually listened to the first disc three times before I actually took a break.
The second disc is heavier and seems quite different to the first disc.  Yes there is some common ground, but it does feel like they put two totally different albums by one band onto two discs and released them together instead of separately.  That's really the only criticism I have – if you treat the two discs as separate albums when you listen to them then it makes more sense.
Some great prog rock with stunningly good instrumentals.  Well worth a listen for prog lovers.
Rating: 8.5/10
Track listing
Disc 1:
1. In Memory of …
2. VOZ I – New World
3. VOZ II – Crossing Meridian
4. VOZ III – Approaching Storm
5. VOZ IV – Milestone
6. VOZ V – Whispers
7. VOZ VI – Freefall
8. VOZ VII – Darkened Worlds
9. VOZ VIII – Rise to the Surface
10. VOZ IX – Skies Clear
11. VOZ X – Voyage Ends
Disc 2:
1. Zosimos Sleeps
2. Becoming
3. Spirits Dwell
4. Around the Sun
5. Hyperbole
6. Becoming (Reprise)
7. Red Skies