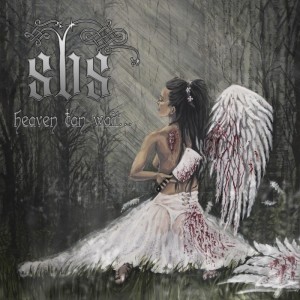 SBS, or to give them their full name, Spicy Bits of Scandal, are a rock band from Lithuania.  The band formed in 1979, and by 1988 was playing gigs in Lithuania and abroad including festivals in Poland and Latvia.  Since then they've released three albums, supported Judas Priest and played various other gigs and festivals.  Now they are releasing their fourth album, "Heaven can wait".
Musically the album contains elements of a range of genres, with Prog rock and symphonic metal being the most obvious ones.  It certainly reminds me to a certain extent of bands such as Symphony X and Avantasia.
Brief comments on a few tracks…
The album kicks off with "The journey begins" which isn't a song but is actually an intro.  It's unusually long for an intro track though at around 3 minutes long
"Religion of rock" opens with a distinctive riff – it's taken from Deep Purple's song "Burn", but happily after the opening 20 or 30 seconds the song shifts into a different tune, which suggests this was SBS's way of paying tribute to one of their idols.
"Waiting on dark" is a soft ballad played primarily on acoustic guitar but with some soft orchestratal backing.  A lovely track.
The last track on the album is a bonus track, "Don't torture me".  It's a really strong song and should have been part of the basic album rather than a bonus for certain versions of the album.  It's got a great 80's melodic rock feel to it.
This is a really good album.  I'd definitely recommend it to fans of bands such as Symphony X and Avantasia – well worth a listen.
Rating: 8/10
Track listing:
1. The journey begins
2. Bloody wedding
3. Against the whole world
4. Scream from hell
5. Puer malus – You are the witch
6. The judgement
7. Cinderella
8. Samhain
9. The abyss
10. Kiss of Judas
11. Religion of rock
12. House of the evil
13. Danse Macabre
14. Fallen Angel
15. Waiting on dark
16. Don't torture me (Bonus track)
SBS are:
Vitalis  Kairiukštis – Lead Vocals
Kostas Balciunas – Guitar
Martynas Garbacas – Bass
Vaidotas Segenis – Drums