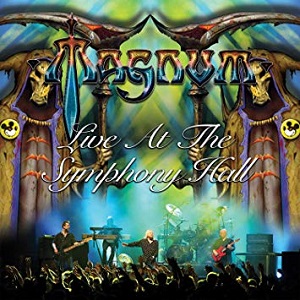 In January 2018, Magnum released their 20th studio album, "Lost on the road to eternity". Coming forty years afte the release of their debut album it was a great album that demonstrated that they're still making great music and got great reviews. The release of the album was followed by a two month tour which concluded with a show on 19th April 2018 at Symphony hall in Birmingham. That show was recorded and is now being released as a live album.
The setlist of the show (and now track listing for the album) included four songs from the new album alongside songs from other albums in their career. There are some songs that fans simply wouldn't be happy not hearing, so you have some of those along with a mix of other songs so they arent just playing a slightly tweaked version of the set from their previous tours – Magnum are a band that do like to vary things, so for example "On a storytellers night" doesn't get an airing this time despite being a fan favourite. Magnum have enough material that they can vary the setlist a fair amount and still keep the fans happy. They also vary how they play the songs too to keep things interesting.
Even though Bob Catley is in his 70s now, he's still got a fantastic voice and he was in great form at this show – as indeed were the whole band. He never seems to struggle with any of the songs, whether they're old or new, and his distinctive vocals still sound absolutely great.
It's a great setlist with some of my favourite songs included as well as some of the best songs from the new album, and the new songs stand up well to comparison to the older material. With some bands that have been around for several decades you get a feeling of dread when they decide to play new songs and you wish they'd stick to the older songs you love, but with Magnum there's never been that sort of thing – the new material hasn't departed radically from the path set by the early albums, and as a result the fans have embraced the new material as it's been released. With the new album being so good then they could have played even more songs from it with nobody complaining.
For this show the band had some special guests. Rebecca Downes joined them for "Without love" and "When the world comes down", and Avantasia frontman Tobias Sammet joined them for "Lost on the road to eternity" and "When the world comes down. Tobias Sammet is a singer that Bob Catley has performed with many times as Bob regularly sings with Avantasia.
A great purchase for any Magnum fan.
"Live at the symphony hall" will be released on 18th January 2019 via Steamhammer/SPV
Track listing:
Disc 1:
1. When we were younger
2. Sacred blood 'Divine' lies
3. Lost on the road to eternity
4. Crazy old mothers
5. Without love
6. Your dreams won't die
7. Peaches and cream
8. How far Jerusalem
Disc 2:
1. Les morts dansant
2. Show me your hands
3. All England's eyes
4. Vigilante
5. Don't wake the lion (Too old to die young)
6. The spirit
7. When the world comes down
A great purchase for any Magnum fan.