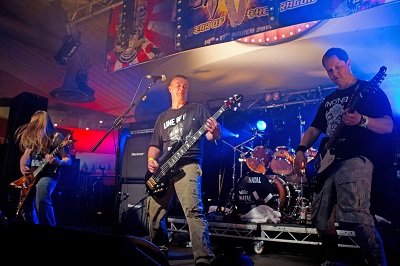 Line Of Fire are set to play the New Blood Stage at this years Bloodstock festival on Sunday the 11th August.
We catch up with the band to find out more about them, the festival, their thoughts and what you lucky Bloodstock go-er's will see!
Can you give the readers a quick introduction to the band.
Line Of Fire are Baz Shaw-vocals and bass, Paddy O'Malley-guitar, Dave Lamont –Guitar and Rod Coleman-Drums.
How would you describe your sound.
Heavy down tuned bluesy metal with added southern comfort, imagine 'Down' with more of a southern rock sound. Recently been described as thrash metal meets the 'Black Crowes' hahaha.
Why did you want to become part of the New Blood Stage line up?
Because Bloodstock is one of the UK's finest metal festivals and it is a real good chance of getting our music heard by like minded souls. I have been to Bloodstock myself many times as a punter and to go there as an artist is like a dream come true.
What was your initial reaction when you found out you were playing on the New Blood Stage?
Just amazing almost like a sort of disbelief, fighting back tears of emotion and smiling from ear to ear for a month. Was just the best news after getting so close in 2012, and I honestly believe we have come back stronger than ever.
What can the audience expect from you at the festival.
Whisky, get to the front we want to share a wee dram with you all hahaha. That and some heavy as fuck riffing but with songs that you can sing along to. You can clap, dance, mosh, sing, headbang to our tunes -the lot.
It's all about the songs, we wanna get in your head and have you singing long after the set has finished.
What has been the bands biggest achievement so far?
We were honoured to be picked to play at Hammerfest this year and played on Stage 2. Although we clashed with Napalm Death I think we got a good crowd in and a great reaction and can't thank Terri and all at Hammerfest enough for the opportunity to play there.
For a unsigned band to play Hammerfest and Bloodstock in the same year is just beyond awesome.
Have you ever been to Bloodstock before? If so when and what did you enjoy most about it.
Many times, I enjoy the overall atmosphere of the festival,it really is by the fans for the fans like they advertise. Seen some outstanding performances by the likes of Anathema, Satyricon, WASP, Beholder, Lifer, Candlemass, Opeth, Evil Scarecrow, Saxon too many to mention really.
The highlight so far has to be headlining the Sophie stage with Lawnmower Deth in 2011.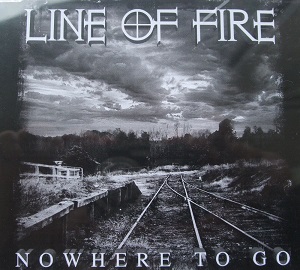 What is your opinion of the Bloodstock line-up.
Well this year we have 2 of the big 4 thrash bands in Slayer and Anthrax so worth the ticket price alone,add in Exodus, Gamma Bomb, Lifer, Beholder, Lamb Of God, Hell, Xentrix, The Prophecy, Shrapnel, Accept, Avantasia, King Diamond (I could go on for ever lol) you have something for everyone.
What are you looking forward to most at Bloodstock.
Of course playing with my band Line Of Fire, this is what we have worked so hard towards moments like this.
Can you sum up Bloodstock in one sentence!
The Metal Party of the Year, makes you feel sorry for your friends not into metal as they are missing out BIG time.
Any message you wish to pass on to the PM readers
Get to the New Blood stage on Sunday 11th August for Line Of Fire,and get to the front for some whisky. Seriously just enjoy yourselves (as if you need me to tell you that) support as many bands as you can, some serious talent on the New Blood stage, you may just find your new favourite band.
Not just at Bloodstock support your local metal bands when they play near you or the venues will close and the bands will have nowhere to play. I could also rant on about support bands borrowing gear off the headline bands and then not sticking around for the other bands but I won't. Oh dear I just have. Also if you go and support your mates band,great,but stick around for all the bands that are playing please.
Thank you for taking the time out to complete this interview, we are looking forward to seeing you at Bloodstock \m/ \m/
Links:
 http://www.lineoffire.org.uk/
https://www.facebook.com/lineoffire666
http://youtu.be/ftvhhVAQc6w