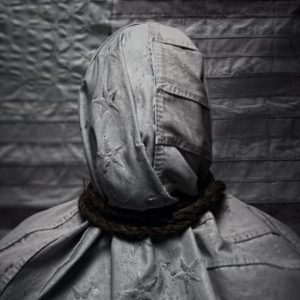 The word emotional has been denigrated in recent years by it's association with the dreaded 'core scene, and its attribution to a raft of bands who have used the pretence of caring what goes on in the world about them to worm their way into the hearts, and souls, of impressionable teenagers.
It is, however, a word which can be very aptly applied to LA punk quartet letlive., as these lads place their own hearts very firmly on their sleeves and at the forefront of their sound, both in terms of the lyrical content of Jason Aalon Butler's evocative vocals but also in the intensity and passion of the music with which his three bandmates – guitarists Jean Nascimento and Jeff Sahyoun and bassist Ryan Jay Johnson – support his acerbic and fiery style and dark subject matter (mortality seems to weigh very much on the frontman's mind).
Very firmly rooted in the West Coast punk sound of the late 1990s / early 2000s (when the guys were obviously growing up), 'The Blackest Beautiful' also references a wider range of styles, including surf and garage pop, and displays a surprising width and depth, especially on the likes of 'Empty Elvis', the ambitious 'Virgin Dirt' and new single 'Younger'.
This is one of those albums by which I was pleased to be surprised, not only by its intensity but also by its honesty – a commodity all too rare in today's homogenized, manufactured scene.  This is one more mature rock fan who is looking forward to joining the 'kids' down the front on the band's forthcoming extensive tour of these shores…
Tracklist:
Banshee (Ghost Frame) / Empty Elvis / White America's Beautiful Black Market / Dreamers Disease / That Fear Fever / Virgin Dirt / Younger / The Dope Beat / The Priest And Used Cars / Phoromone Cvlt / 27 Club
[youtube=http://www.youtube.com/watch?v=KADLiArokIA]
'The Blackest Beautiful' is out now on Epitaph Records.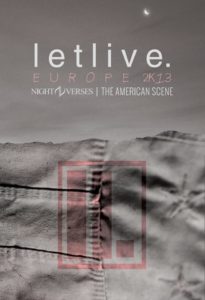 letlive. play the following dates in the UK and Ireland:
Thursday 3 October – Bristol, The Fleece
Friday 4 October –  Southampton, Talking Heads (SOLD OUT)
Saturday 5 October – Birmingham, Asylum
Sunday 6 October – Leeds, Cockpit
Monday 7 October – Newcastle, Warehouse 34
Wednesday 9 October – Manchester, Sound Control
Thursday 10 October – Belfast, The Limelight 2
Friday 11 October – Dublin, Fibber Magees
Saturday 12 October – Glasgow, King Tuts (SOLD OUT)
Monday 14 October – Nottingham, Rescue Rooms
Tuesday 15 October – Cardiff, Clwb Ifor Bach (SOLD OUT)
Wednesday 17 October – London, Electric Ballroom (SOLD OUT)
Support on all dates comes from Night Verses and The American Scene.