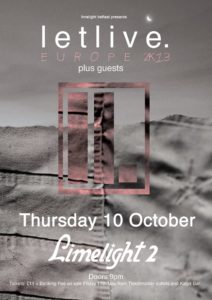 Tonight's gig – unbeknownst in advance – turned out to be something of a victory for live music here in Belfast.  Despite its history as the premier rock venue in the city, the Limelight (now with the suffix '2' to signify the fact that it is the smaller of the 'rooms' in this city centre complex) has increasingly found itself playing second fiddle to so-called 'club nights' (and far be it from me to argue with the management about the economics of the entertainments business) – and especially when it comes to its offer for the metal community, with early curfews and many gigs relegated to unsuitable week nights.
However, on this occasion, live music won out, with the venue's most recently launched club venture (some weird Alice In Wonderland themed affair, complete with giant pink bunny rabbits and cartoons on the big screen in the adjacent pub) curbing its expansion for one night and giving in to the demands of an eclectic mixture of punks, metallians and even scenesters, who came together for an equally diverse night of live action.
San Francisco quartet The American Scene kicked off proceedings in a surprisingly low-key, somewhat moribund fashion, their ambient, depressing alt-rock sound characterized by swirling guitars and very little else.  The band make no attempt to engage with the (albeit still quite sparse) crowd – it is four songs before frontman Matt Vincent even deigns to speak, and then his interaction is as disconnected as the rest of the performance.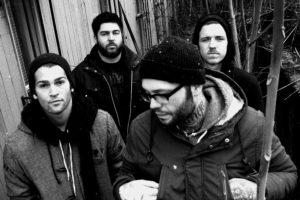 Thankfully, Night Verses are a much different proposition, as they ratchet up both the energy and intensity levels with their impressive brand of hardcore-tinged progressive metal.  Unlike his predecessor, vocalist Douglas Robinson possesses an understated charisma which sees him connect with his audience right from the off, while the three musicians are superb – especially drummer Aric Improta, who flails like Animal but plays with ergonomic precision.  The music, which also infuses elements of Deftones and Alice In Chains, balances the right mix of light and shade, and the set is extremely well balanced in its delivery and very effective in its delivery.
https://www.facebook.com/NightVerses
Jason Butler has the reputation of being one of the most energetic frontmen in the business, pushing his body to the limit both on stage and in the pit:  tonight it is obvious from early on that this may not be the case, as he is very clearly limping as the band push through the crowd toward the Limelight stage.  However, it takes much more than a potentially crippling injury to hold him down as, right from the off, there is hardly enough room on the aforesaid stage to contain both his energy and that of his letlive. bandmates…  Within moments, Butler – who is like a spring coiling, uncoiling and recoiling – jumps into the crowd and then, once hauled out by his roadcrew, immediately leaps on to the top of the backline:  it's a momentum he maintains throughout the hour long set.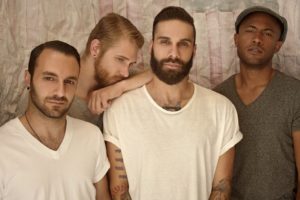 Butler refers to his injury early on, when he talks about having to be rushed to hospital for emergency pain relief injections – something he points out could not have happened in the States, leading him to thank the National Health Service for "fixing my fucked up knee":  mind you, he probably did it a lot more damage as one assumes he ignored medical advice to rest his battered joint by bouncing around with more energy than Tigger on steroids.  The frontman's between song chat possesses a surprising sense of honesty, as he tells the Belfast crowd that "you guys are full of fire", before again joining the assembled fans during the latter portion of 'Empty Elvis'.  But, there's a lot more honesty to come, as he goes on to talk about deeply personal matters, such as his own near death experience and how his mother was advised to have an abortion:  "that was 28 years ago, and here I am, 28 years later, in Belfast!".  They are tales which match the angry, spiteful nature of his lyrics and the percussive, abrasive riffs produced behind his lyrics in what proves to be an emotionally draining set for everyone concerned.
https://www.facebook.com/theletlive
The tour continues tonight (Friday 11 October) at Fibber Magees in Dublin, and then as follows:
Saturday 12 October – Glasgow, King Tuts (SOLD OUT)
Monday 14 October – Nottingham, Rescue Rooms
Tuesday 15 October – Cardiff, Clwb Ifor Bach (SOLD OUT)
Wednesday 17 October – London, Electric Ballroom (SOLD OUT)
'The Blackest Beautiful' is out now on Epitaph Records.