Les-Fest are at it again with a further 6 acts confirmed for their 3rd annual festival to be held at larger venue, Wiston Lodge, Lanarkshire.
First up and confirmed to headline the Cackblabbath.com stage on Sunday is Irish Power Trio led by former Mama's Boys and Celtus guitarist/violinist,singer and songwriter Pat McManus & Band.
Festival founder Dave Ritchie states, "I was always a big Mammas Boys and Pat fan, but this came out of the blue, when one of our associates in London confirmed his availability. It was an opportunity not to be missed so we grabbed it with both hands, simply put he is unmissable"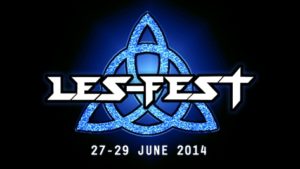 Pat and the band will close the second stage on Sunday evening. They will be joined on that stage by Glasgow based singer songwriter Black and White Boy, a breath of fresh air for the Glasgow music scene, mixing catchy, and free flowing melodies with well written vocals.
Switching to the Saturday Main Stage we can also announce London based When Our Time Comes. Acknowledged as a Metal/Progressive/Hardcore act "This brings something a little different to the Saturday and reinforces our commitment to new exciting music" continues Dave.
Moving closer to home, the festival organisers can also confirm Edinburgh based Dog Tired, if you like a bit of Pantera, Down or Slayer, "These are the guys for you but they have a tough, relevant and very modern sound".  They will be joined by Glasgow based "Whats The Damage?!"  "This was a band that impressed us at one of last years showcase gigs, so really pleased to add them to the bill and to show our continued support for awesome, local, quality music"
The final addition to this announcement is local band Static Rock a group of lads that worked together and developed at a local music college. They will bring their own distinct mellow rock sound to the second stage. We may have a few more things to come yet too!!
Tickets available now and selling quickly from www.les-fest.co.uk
Full confirmed line up to date
Main Stage:
Bacchus Baracus, Bad Touch, Bleed From Within, Cambion, Crash Mansion, Cypher 16, Deadly Circus Fire, Defy All Reason, Demonic Resurrection, Disposable, Dog Tired, Epsilon, Exit State, Fallen Fate, Falling Red, Fireroad, Fury, Grifter, GutterGodz, House of X, Incassum, Incinery, Inferno, Mask of Judas, Massive Wagons, Reign of Fury, Sa-da-KO, Savage Messiah, Spill 16, Spirytus, Stormbringer, Stormzone, Skreamer, The Burning Crows, The Dirty Youth, Vantage Point, Voodoo Vegas, What's The Damage?!, When Our Time Comes and the Wild Lies
Cackblabbath.com Stage:
Bad Touch, Black and White Boy, Curran, Exit State, Incassum, Inferno, Pat McManus Band, Static Rock and Steel Threads.
Full details of the new location and venue are available now on the Les-Fest website and tickets are on sale click here.
Links:
https://www.facebook.com/LesFest