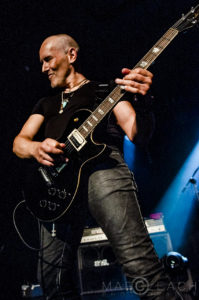 When is a tribute band not a tribute band?  One answer would be when the band is question is not only in itself a tribute to the great music which it performs but also contains within its ranks the majority of the supremely talented musicians which created that music – albeit in a slightly different guise – in the first place…
This is most definitely the case with Last In Line – a band made up of the four surviving members of what many people regard as the seminal line up of Dio:  the four musicians who created the sound of the band's first three (and arguably best) albums – 'Holy Diver', 'Last In Line' and 'Sacred Heart'.  Now, it's perhaps good to set one thing right at this point:  there is no way in which the four musicians concerned – guitarist Vivian Campbell, bassist Jimmy Bain, drummer Vinny Appice and keyboard wizard Claude Schnell – could be accused of trying to cash in on the memory of their late collaborator, the great Ronnie James Dio;  after all, it has been more than three years since the vocalist's untimely passing – and, these are the guys who wrote the feckin' songs in the first place.  As Vivian Campbell said in our candid interview with him before the show (see link below), if any number of half-baked imitation acts can go out and play the songs, why shouldn't they show them how to do it?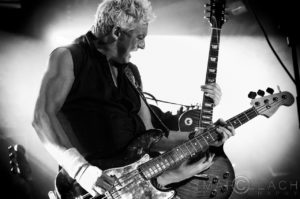 It was highly appropriate that honour of opening this first night of LiL's UK tour – indeed, what could be argued as their first 'proper' live appearance (even Campbell describes their gig in a small Los Angeles bar the previous weekend as a 'warm up') – should fall to Sweet Savage, Campbell's first band from his days back in his native Belfast.  Over their 35 year career, the Norn Iron NWOBHM innovators have not exactly enjoyed a smooth ride – and the build up to this gig was no exception, with longstanding guitarist Ian 'Speedo' Wilson having been forced to quit the band several weeks beforehand on health grounds…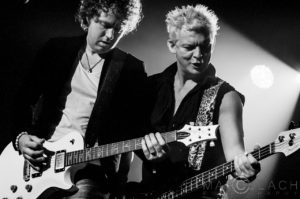 Speculation was rife in the intervening period as to how the band would overcome this small problem… and especially as they had been keeping decidedly quiet about the matter.  Would 'Speedo' play his farewell gig (a question which later proved to be a definite negative)?   Or, would they play as a trio, with second guitarist Phil Edgar stepping up to lead duties?  I mean, they couldn't possibly recruit a new lead guitarist in such a short period of time, could they?  Well, the answer to the last question proved to be in the affirmative, as early arrivals sitting in the adjoining bar witnessed the arrival of one Simon McBride, complete with guitar case in hand, just moments before soundcheck… well, I suppose we should have seen it coming, really:  after all, he himself was a Savage for three years in the late 1990s (appearing on the band's 'Rune' album) before deciding to plough his own furrow as a blues man…  But, with (according to frontman Ray Haller) just a few days' notice and one rehearsal under his belt, McBride returned to his roots and fitted in as if he had been playing with SS all along, delivering the metal adrenalin punches of 'Regenerator' and 'No Guts No Glory' with easy aplomb – although he couldn't resist adding his own bluesy touch to the closing bars of the iconic 'Killing Time'.  Haller obviously enjoyed having his old friend trading licks once again, and the quartet delivered another enjoyable if (apart from McBride's fiery fretwork) workmanlike set.
The unexpected arrival of Def Leppard vocalist Joe Elliott caused an appropriate kerfuffle amongst the audience during the changeover (so much so that the singer made the wise decision of returning to the back stage area after one song, such was his presence distracting many from the subsequent events onstage)… even so, the anticipation was building nicely as LiL's stage time approached, and was almost unbearable by the time the house lights dimmed and lasers pierced the darkened room…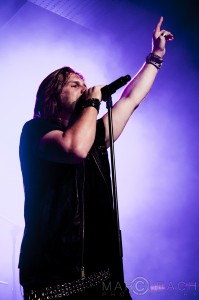 Kicking off in fine style with the anthemic invitation to 'Stand Up And Shout', what followed was a 90-minute masterclass in how deliver a set of classic metal songs by a line up of musicians who know a thing or two about delivering set of classic metal songs.  Drawing on the whole of 'Holy Diver', most of 'Last In Line' and to a lesser extent 'Sacred Heart' the band concentrate on the songs which they themselves had produced as a singular entity almost 30 years ago…
Grinning from ear to ear, Campbell clearly relishes the role of axe hero once again, and blasting out the riffs, melodies and solos as if he had been doing so for the past three decades:  in fact, the entire band belie the fact that they hadn't played together in nigh on 28 years or so… Appice and the gaunt Bain are so tight not even a Ballymena bank manager could extract a fiver from between the cracks.
But, of course, there is an added element:  it's not Ronnie James Dio up front.  Instead, the uneviable task of delivering the vocal aspect of this set of classic tunes falls to one Andrew Freeman, former lead vocalist with the under-rated Lynch Mob:  it's a task to which the singer rises with ease, quickly winning the audience over with a charismatic and energetic performance.  Having made the wise decision not to recruit a 'Dio imitator' – although there are moments where his inflections come very close to mirroring those of the great man – Freeman takes the songs down more of a power metal route in their delivery, but in a way in which does them supreme justice.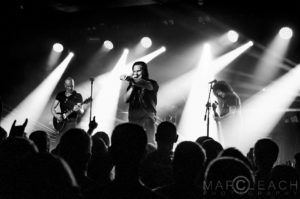 It's hard to pick out highlights, but the likes of 'Don't Talk To Strangers', 'Evil Eyes, 'Holy Diver' and main set closer 'Rainbow In The Dark' are especially impressive, while 'Egypt (The Chains Are On)' is dark and menacing, 'I Speed At Night' is rambunctious, "Last In Line' features one of the most divine solos Campbell has ever delivered and encore 'We Rock' is a suitably rollicking, crowd-pleasing finale.
Last In Line are far from a tribute band.  They are a group of consummately brilliant musicians having a great deal of fun recreating the music which they wrote, performed with passion and which defined a generation of metallians.  And they do it with fucking style.
The Last In Line tour continues as follows:
Friday August 9 – The Cathouse, Glasgow
Saturday August 10 – Bloodstock Open Air (Sophie Lancaster Stage)
Sunday August 11 – O2 Academy, Islington
Watch our interview with Vivian Campbell here: http://planetmosh.com/vivian-campbell-def-leppard-last-in-line/
https://www.facebook.com/lastinlinerocks
Photographs by Marc Leach:  https://www.facebook.com/officialmarcleachphotography
See more photographs in our gallery:  http://planetmosh.com/last-in-line-belfast-photos-2013/