L.A. GUNS release new album 'Renegades' on 13th November, out on Golden Robot Records and available for pre-order now.
RENEGADES is the brand new album from L.A. Guns (Steve Riley, Kelly Nickels, Scott Griffin, Kurt Frohlich), available for pre-order/save now and out on Friday, 13 November 2020, through Golden Robot Records.
If there was a band synonymous with the infamous Sunset Strip it is L.A. GUNS. Born into a scene that will never be replicated, L.A. GUNS rode alongside Motley Crue, Guns n' Roses, Ratt, Poison, Quiet Riot and co. in one of the biggest movements in music history. L.A. GUNS are without a doubt Hollywood rock royalty.
Fast forward to 2020 and they're truly on top of their game and enjoying an absolute resurgence in their long and distinguished career. L.A. GUNS have managed to retain their streetwise integrity whilst fitting seamlessly into today's rock market.
Heavily plugged into their loyal fan base, L.A. GUNS are now set to release a brand-new album, Renegades, on vinyl, CD and digital.  The record has already seen 3 smash singles; the title track, Renegades, Crawl and Well Oiled Machine, (which gained a position and cover placement on Spotify's esteemed 'Hard Rock' playlist).
With more than 30 years of noteworthy material, L.A. GUNS have positioned themselves as true heroes of the rock 'n' roll genre, bringing their iconic L.A. sound to audiences around the world.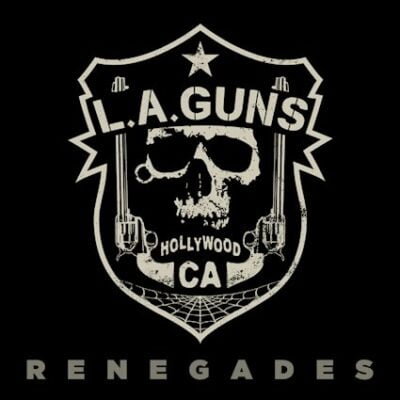 TRACKLISTING
01. Don't Wanna Know
02. Renegades
03. Would
04. All That You Are
05. Witchcraft
06. You Can't Walk Away
07. Lost Boys
08. Well Oiled Machine
09. Why Ask Why
10. Crawl
To celebrate the release of Renegades, five limited-edition L.A. Guns bundles have been put together for fans to choose from:
ULTIMATE Fan Legend Bundle
Includes red, white & blue vinyl + CD + t-shirt + signed 8 x 10 photo + LA Guns patch + LA Guns sticker + LA Guns button
SUPER Fan Legend Bundle Includes red, white & blue vinyl + CD
Aussie Priority Fan Bundle Includes purple vinyl + CD + t-shirt
Well Oiled Machine Fan Bundle Includes clear vinyl + CD
'I Don't Own a Record Player' CD bundle Includes CD + LA Guns sticker (banner or skull)
Check out the limited edition Renegades fan bundles HERE
Renegades is also available at the following outlets:
iTunes (pre-order digital)
Spotify (pre-save)
Apple (pre-save)
JB Hi-Fi (CD + purple vinyl)  ** Australia only
Sanity (CD + purple vinyl) ** Australia only
Amazon (pre-order digital, CD + vinyl, depending on country)
Pre-order/save new album Renegades HERE
ABOUT L.A. GUNS
L.A. GUNS was formed in 1986 and signed with Polygram Records in 1987, recording their first album that summer. This first album, titled L.A. GUNS, went on to sell over 1,000,000 copies giving the band its first platinum award. Tours with AC/DC, Iron Maiden and Def Leppard followed. A compilation of the videos made from this first album also earned the band a gold video award. L.A. GUNS went into the studio to record their second album, Cocked and Loaded, in the spring of 1989. It was a hit right away with the release of Rip and Tear as the first single and video. Never Enough and The Ballad of Jayne followed, pushing the album toward platinum status once again. The video compilation from this album earned the band its second gold video award.
A successful world tour followed. The band's third album, Hollywood Vampires, was recorded in the fall of 1990. With the release of Kiss My Love Goodbye as the first single and video and another successful world tour, the album gave L.A. GUNS its third platinum album in a row.
LINKS
https://www.facebook.com/officiallaguns/
https://www.instagram.com/laguns2020/
https://goldenrobotrecords.com/golden-robot-records/l-a–guns/