The Answer play a small set of intimate venues in support of their brand new album 'Sundowners' with support from Oli Brown & The Dead Collective
The Answer is firing on all cylinders at tonight's penultimate show. Choosing to play a set of intimate venues the band are back, playing tight, and it's like the last seven-year hiatus didn't happen but it did, and what better way to make a comeback than with the cracking new album Sundowners, which got its official release on St. Patrick's day.  
Oli Brown and The Dead Collective
Guitarist and singer-songwriter Oli Brown continues to develop his passion for blues rock from being a touring musician to forming the band Raven Eye back in 2014. Now, the contemporary blues rocker is set with his new project Oli Brown & The Dead Collective, the touring band features Wayne Proctor on drums and you may know him from Wayward Sons and his recent tour with Black Star Riders, it's Sam Wood on guitar. What a collective indeed.
The three-piece takes to the dimly lit stage. A two-beat drum begins Father, it has a sludgy blues pace and Oli Brown melds it with his solo riffing. There's no bassist so I'm guessing these parts have been programmed on the laptop that sits near the drums. The atmospheric Sinking Ship is more upbeat and has a bit of a Fleetwood Mac vibe as Brown pounds out the words.
Oli Brown is not your Gary Moore but more your Jimi Hendrix type of guitar-muso, with a love for furious hard guitar playing, accompanied with melding solos and his voice ain't bad too. Think 'Pink Floyd' meets 'Rival Sons' for that modern twist. Playin his debut EP Prelude, in no particular order. We are treated to the new single Haunted which is out on 4 April.
Showing not only his stage talents, but Oli's second passion is also jewellery making. You can find out more at Black Feather Designs https://blackfeatherdesign.co.uk/?variant=42502990626993
Setlist – Like A Father – Everything You Want – Sinking Ship* – Haunted* – Heard It All Before* – Your Love – Home Sweet Home
More photos here: https://flic.kr/s/aHBqjAxsar
https://www.facebook.com/OliBrownOfficial/?locale=en_GB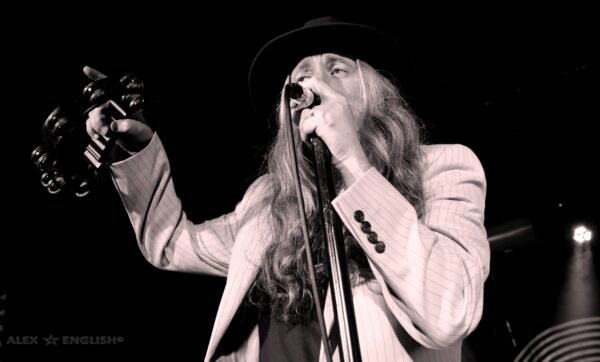 THE ANSWER
The Answer has a lot to be proud of as the Northern Irish rockers introduce us to Sundownders their seventh studio album released via Golden Robot Records/7Hz. Playing an impressive eight tracks off the 11-song album. The band are in good spirits with smiles all around. Vocalist Cormac Neeson welcomes his audience, expressing the band's joy to be back on the stage with new songs to boot.
Kicking off with Keep Believin' from their 2006 Rise album, it's what the fans have been waiting for, as The Answer gets back on it. James Heatley's thunderous drumming opens Blood Brother, the first single off Sundowners, its power-laden grooves translate superbly as a live song!
Cormac dances across the stage, tambourine in hand like he's got the spirit of 'rhythm and blues running through his veins on the charismatic Oh Cherry. It's great to see the audience lapping up this vibrant roller. Grabbing his Resonator guitar, Paul Mahon's steely notes, draw you into the hypnotic Sundowners. I'm really liking how the new songs deliver live.
California Rust is another banger off Sundowners; it's like the band 'took a bit of this and a bit of that for inspiration from their previous albums, giving you all the vibes and energy of The Answer that we know them for, as Neeson plays a mean harmonica on this ballsy blues rocker.
Cormac tells us that he has a cheeky new game and has been scouring the UK pubs for the best Guniness in each town they play. As he raises his glass to give thanks to his band and support act Oli Brown and of course, you the fans, who have and continue to stick by them!
Not unexpectedly we get a good measure of fan favourites, intermingled in their 15-song-set-list: Tonight is the one we'd been waiting for, along with Under The Sky, Nowhere Freeway, Spectacular and leading the crowd on Come Follow Me.
Breaking for a quick Encore.
Running riot on Living on The Line gets its showcase, a great spirited song which the crowd are all in for. So, what do you close such a grand set with, of course, another colossal number, the mighty Preachin'.
Cormac asks 'if we've got the blues' as a sing-along starts whilst he takes himself to the edge of the stage, lowering himself crowd-side, Neeson makes his way into the pulpit of fans. Encouraging the audience to get down on their knees, before we all leap up for the chorus of Prechin'. Bassist Micky Waters gets down and groovy, pulling all the moves with a huge smile on his face, as Paul slides away on his resonator, there's so much fun going down.
Thanking everyone and wishing them well, the band wave and take their leave.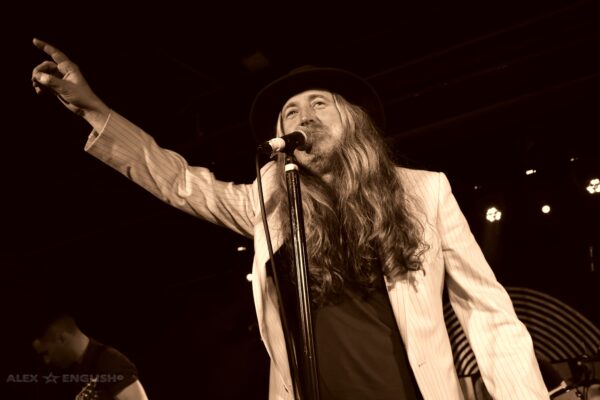 More photos here – https://flic.kr/s/aHBqjAxqFF
Setlist:
Keep Believin'
Blood Brother
Tonight
Oh Cherry
Under The Sky
Nowhere Freeway
Sundowners
All Together
California Rust
Spectacular
Come Follow Me
Always
Want You To Love Me
Encore:
Livin n The Line
Preachin'
The Answer is:
Cormac Neeson – Vocals, Micky Waters – Bass Guitar, Paul Mahon – Guitar, James Heatley – Drums