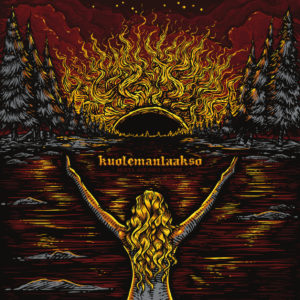 Kuolemanlaakso (Death Valley) were formed in 2010 in Helsinki. This EP was recorded in the forests of Finland, and according to songwriter Laakso marks a departure in style from their previous LP release; "Our goal was to create the tightest and most balanced entities for both releases. The EP introduces our current style in a more straightforward and shorter form, whereas the full-length evolved into something more epic. The EP tracks are quite different from one other, with each song displaying a different side of the band and what we are capable of".
Track 1 "Me vaellamme yossa" (We Walk By Night) opens the EP with some traditionally throaty demonic rasps from our leader; anthemic guitars abound and spooky synth vibes add to the general air of malaise.
Track 2 – Tulenvaki  (Fire On A Crowd) – sees the Finnish doom-funsters descend deeper underground – the steam train of death has entered a tunnel which can only lead to one place – Kotamaki rasps like a fetid whooping cough victim demanding a strong dose of Night Nurse. Finnish doom/death metal sounds somehow more authentic than many UK counterparts – maybe the language lends itself to the genre. The down bound train accelerates around the 3 minute mark as if thundering down a steep ravine, before regaining its' control and thundering once more towards its' climax before shuddering to a halt. Great fun.
The third offering, Kalmoskooppi (translated possibly as cadaver-scope?) announces itself with a double pedal awakener, followed by our guide to all things deathly seemingly vomiting in anticipation of the thrills to come. Ideal preparation, as it transpires; the track roars its way along, with Kotamaki in furious form, rising to a choral crescendo which seems to indicate his head will surely explode at some point. Thrash metal guitar licks abound; truly excellent musically and the stand out track for me.
Finally we have Musta Aurinko Nousse– (Black Sun Rising) – a cover of a song by Juhani Juice Leskinen, a legendary Finnish singer/songwriter who spearheaded the Manserock movement in the 70's – literally meaning 'music from Tampere'. Manserock was generally thought to have started following a production of the musical 'Hair' in Tampere in 1969 which included a number of local musicians – the show was a great success which acted as a springboard for artists such as Leskinen to go on to national fame. Leskinen achieved near legendary status during his career, and was voted 38th greatest Finn in history in a 2004 – the original song covered by Kuolemanlaakso was a jolly Eurovision/Rainbow hybrid originally released in 1985, and has also been covered by Finnish metallists Juice Fruit in 2008. Kuolemanlaakso's version is understandably darker; vocalist Kotamaki (Goat Tormentor – ex Swallow the Sun and Barren Earth) growls furiously throughout, offering a menacing air, whilst musically the band keep up with wailing tuneage throughout.
The EP is released today (November 29) via Svart Records as a limited digipak CD and a strictly limited 12" vinyl with three different colors (100 copies / color).
https://www.facebook.com/kuolemanlaakso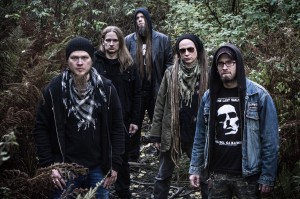 [amaMP3]