Oriental Beat by Hanoi Rocks gets the redux treatment, officially mixed and revived from the original sessions, and released on March 17th on deluxe vinyl, CD and digital formats. Dubbed the "re(al)mix", this 40th-anniversary edition was mixed by Petri Majuri at E-Studios in Finland in collaboration with the band. Vocalist Michael Monroe calls this release "the longest and slowest album recording project ever," stating that "40 years in the making, it's not just a remix, but the REAL MIX supervised and approved by Hanoi Rocks".
Recorded in London, UK in 1981, for 200 pounds a day, Oriental Beat was made during the height of the British punk + New Wave movement, when the band was hanging out with everyone from Phil Lynott to the Damned. Hanoi Rocks drummer Gyp Casino says of Oriental Beat: "Back in the days we gave heart, soul and a bit of pain to make this record something else" but the sound of the album, originally released in 1982, did not match their efforts at the time. Bassist Sami Yaffa called it "the worst sounding album of our career" and Michael Monroe said that "the producer of the album didn't have a clue what the band was about, and his mix of the album was horribly wrong".
Oriental Beat's original engineer Peter Wooliscroft was not a rock producer, and according to Hanoi Rocks' manager Richard Bishop he "tried to mix the album to sound like Spandau Ballet". Released before the band could remix or rerecord it, as the label had run out of money, and the master tapes had gone missing, the band has always considered the original mix of Oriental Beat to be a "disaster". With the tapes mysteriously showing up in the Universal vault recently, the band was finally able to mix and resequence the album the way they wanted it to sound.
Oriental Beat is a defining masterpiece made when Hanoi Rocks was about to explode onto the world scene and written at the absolute peak of lead guitarist Andy McCoy's creativity as a songwriter. Rhythm guitarist Nasty Suicide says "only now, with stripping it down to the bare essentials and tweaking it to bring out what was really laid down it became our dream come true! THIS is what it's all about" as this definitive edition of Oriental Beat now fully displays the ultimate arrogance and attitude which defined the band. Monroe says: "now, 40 years after its original release in 1982, we finally got the album sounding as great as it deserves, with no overdubs or samples," and McCoy adds that: "It's better now than ever. This is what it was meant to sound like. So enjoy it…Another shot of Hanoi Rocks".
Get your shot of Oriental Beat as it was always meant to be.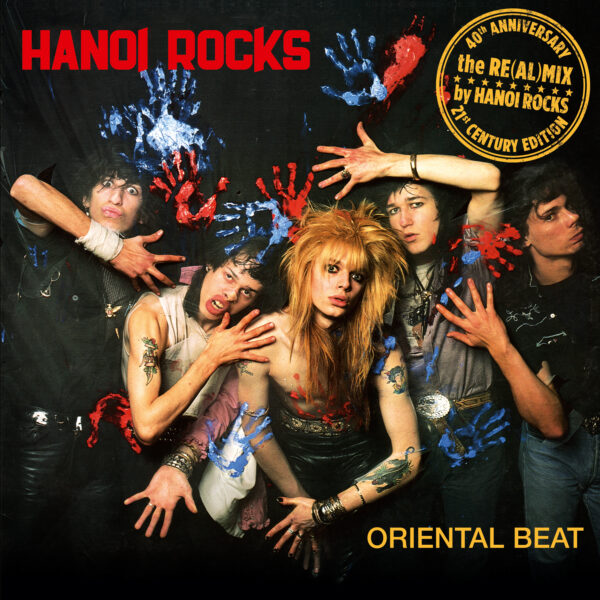 www.instagram.com/svartrecords