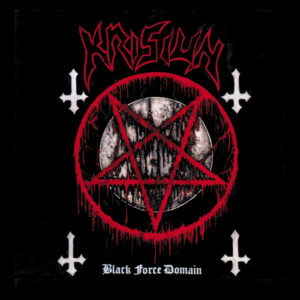 For almost 20 years, Krisiun have been one of a handful of Brazilian bands who have attempted to follow in the footsteps of their more famous countrymen, Sepultura, but, while enjoying moderate success outside their homeland – and especially in Europe – have by and large failed to capture the same level of international acclaim and kudos that their fellow compadres have capitalized upon.
Originally released in 1995 and 1998 respectively, 'Black Force Domain' and 'Apocalyptic Revelation' – both being re-issued for the second time in as many years, this time via Century Media – is a timely opportunity for death metal fans to remind themselves, if they need to be so reminded, of the merit of Krisiun's not insubstantial and attractive back catalogue.
'Black Force Domain' very much exhibits the bands roots in the late-Eighties thrash sound of the likes of Kreator and Sodom – a point reinforced by the inclusion of covers by said Teutonic titans as 'bonus tracks' – from Max Kolesne's ferocious double-bass kick work (best demonstrated on the drum-led savagery of 'Evil Mastermind') through to brother Moyses' intelligent if, on this debut offering at least, nascently derivative winding guitar riffs.
It's an album very much of its time, not least in its overall sound and raw production – which accentuates Alex Camargo's clean vocal style – but is a worthy showcase of the band's formative progression.
Tracklist:
Black Force Domain / Messiah Of The Double Cross / Hunter Of Souls / Blind Possession / Evil Mastermind / Infamous Glory / Rejected To Perish Below / Meanest Evil / Obssession By Evil Force / Sacrifice Of The Unborn / Nuclear Winter (Sodom cover) / Total Death (Kreator cover)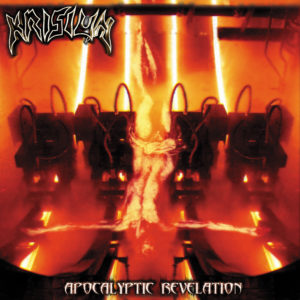 'Apocalyptic Revelation' shows the next stage in Krisiun's evolution, with the trio bringing an increasingly darker edge to their still thrash-influenced style:  the songs are more intelligent and tighter in both their construction and their delivery, while the slightly duller production complements Camargo's gruffer, more menacing vocal delivery, which in turn suits the tauter overall sound.  The addition of no fewer than six bonus tracks – including Morbid Angel and Slayer covers – and three live performances makes this a decent value-for-money package worth exploring by those not yet familiar with Krisiun's body of work (or, in the case of your reviewer, plugging a criminal gap in one's collection).
Tracklist:
Creation's Scourge / Kings Of Killing / Apocalyptic Victory / Aborticide (In The Crypts Of Holiness) / March Of Black Hordes / Vengeance's Revelation / Rites Of Defamation / Meaning Of Terror / Rises From Black / They Call Me Death (re-recorded version) / Unholy Blasphemies (Morbid Angel cover) / Silent Scream (Slayer cover) / Vengeance's Revelation (live) / Kings Of Killing (live) / Apocalyptic Victory (live)
Krisiun tour the UK and Ireland in January (with Kataklysm and Fleshgod Apocalypse):
Monday 13th – The Underworld, Camden
Tuesday 14th – Sound Control, Manchester
Wednesday 15th – Classic Grand, Glasgow
Thursday 16th – Voodoo, Belfast
Friday 17th – The Pint, Dublin
Saturday 18th – Bierkeller, Bristol