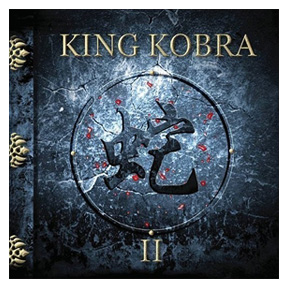 King Kobra released their first album 'Ready To Strike' full of US Hard Rock back in '85, their second album 'Thrill Of A Lifetime' followed in 1986. At that time the band consisted of Carmine Appice on Drums, bassist Johnny Rod, guitarists David Michael-Philips and Mick Sweda, vocals came courtesy of Mark Free. They released a third album ' III' two years later, but this time Johnny Edwards took over vocal duty's. I thought these albums where great, however they didn't sell enough to please the major record label, which dropped them after 'Thrill Of A Lifetime'. KK signed to a new label to release ' III' but this also failed due to poor sales. Carmine then decided to dissolve the band, and then joined up with John Sykes and Tony Franklin in Blue Murder. A compilation album, 'The Lost Years' saw the light of day in 1999, before a surprise return for King Kobra in 2001, This time round Appice and Sweda teaming up with Kelly Keagy on vocals, bass and Steve Fister on guitar for the ill-fated 'Hollywood Trash' record, even hard core KK fans struggled to like this one and not long after the band was put on ice, again.
Fast forward to 2011 and KK made yet another surprise return with Paul Shortino now on Vocals with the excellent self-titled 'King Kobra'. Confused? You will be, as KK have now released their new opus entitled 'II', which should really be called '6', not including the compilation.
"Hell On Wheels", "When The Hammer Comes Down", "Got It Comin'" are all excellent songs and the record has a real throwback to the glory days of '80s hard rock style.
The Ballad of Johnny Rod is a interesting tune ( I like the way KK approach this different way of songwriting, remember Home Street Home ?) with the sound of an old scratchy vinyl tune being played as a bit of story begins, about being in jail and asking his buddy for a light. Then Boom, we're full on into ZZ Top territory.
"Deep River" is a bluesy and soulful number, however at nearly eight minutes long, it is four minutes to long to be a KK track I feel, they should leave this sort of thing to Dream Theater.
"We Go Round" wraps the album up nicely, it's a mid-tempo melodic rocker with a nod in the direction of AOR.
Paul Shortino really is sting in the tail here, he is outstanding on this record, filling the songs with his trademark powerful singing.
Not to be outdone though, Sweda and Michael-Philips put on a guitar master class, trading licks and solos, while all the time Carmine Appice holds everything together with a tasty line in drumming.
All in all, King Cobra's second album with Paul Shortino ( II ) fronting the band is a very solid collection of hard rock songs and should see the rebirth of a criminally underrated band.
Track Listing
01. Hell On Wheels
02. Knock 'Em Dead
03. Have A Good Time
04. The Ballad Of Johnny Rod
05. Take Me Back
06. When The Hammer Comes Down
07. Running Wild
08. The Crunch
09. Got It Comin'
10. Deep River
11. Don't Keep Me Waiting
12. We Go Round
Band:
Paul Shortino – vocals
David Michael-Philips – guitar
Mick Sweda – guitar
Johnny Rod – bass
Carmine Appice – drums
Album out now on Frontiers