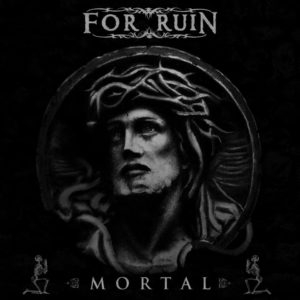 Cork's For Ruin certainly believe in taking their time about things… this EP has been lying around, in one shape or form, for the guts of two years, with a video for the nominal title track having first surfaced on YouTube in the autumn of 2011.  Now, with the band due to release their third full-length studio album, 'Ater Angelus', in the next few weeks, the four-piece have issued a taster of what is to come in the form of this quartet of tunes – two of which feature on the aforesaid album, one which is only available on this limited release and the original demo which featured on that YouTube video…
'Mortals' is a decent slab of technical death metal, which is let down by a muddy production (which, ironically, is as clear as a bell on the appended demo) – but this does not detract from the inherent promise of the material.  The songs are well constructed and performed, with the rhythm section of Pete Lawlor (bass) and Peter Alcorn (drums) driving the songs forward with more than efficient proficiency, while the twin guitarists – John Murphy and Ronan Hayes – work well together in delivering the right combination of head-nodding riffs and melodic hooks.  Murphy's gutturally menacing vocals also match the material well, and easily stand alongside any similar performance from a band at this level.
As a taster for the album, this serves as a welcome appetizer, and definitely leaves you waiting expectantly for the main course.  As a stand alone offering, it's a satisfying snack…
Track listing:
Mere Mortals
The Master Is Here
Death Becomes Him
Mere Mortals (2011 Demo)
'Mortal' is available to download from http://forruin.bandcamp.com/album/mortal.
https://www.facebook.com/ForRuin
'Ater Angelus' is released on Friday September 13th.