Upstaged presents Kickin Valentina UK tour
There's a well-known saying "Revenge is Sweet" but in this case, payback to Covid is most definitely "The Revenge of Rock".
Atlanta's gritty sleaze rockers finally make their way to the UK for a short run of dates and a magnificent return to Call of the Wild Festival where they first made their UK debut back in May 2019. Despite sharing the bill with The Wildhearts & Hardcore Superstar, the popular consensus was that they were the band of the festival. Perhaps much of this reasoning was down to no one really sure what to expect. But yeah, they sure know how to throw a party from up on stage. It is a credit to their songwriting and showmanship to say they own that 80s "here for a good time not a long time" vibe. 
If you want to shake off the shackles of work or the daily grind of life, then that escapism is walking into a Kickin Valentina show. Rockin' out, dancin' & partying with friends is the perfect antidote for the last two stifled life-draining pandemic years.
Kickin Valentina is delighted to welcome fellow US rockers The L.A. Maybe & Scottish rising stars She Burns Red on the following dates:
May 2022
16 – Bannermans, Edinburgh
17 – Waterloo, Blackpool
18 – Patriot, Newport
19 – Nambucca, London
Kickin Valentina also appear at Call of the Wild Festival in Lincoln on 21st May.
Tickets on sale today – https://www.gigantic.com/kickin-valentina-tickets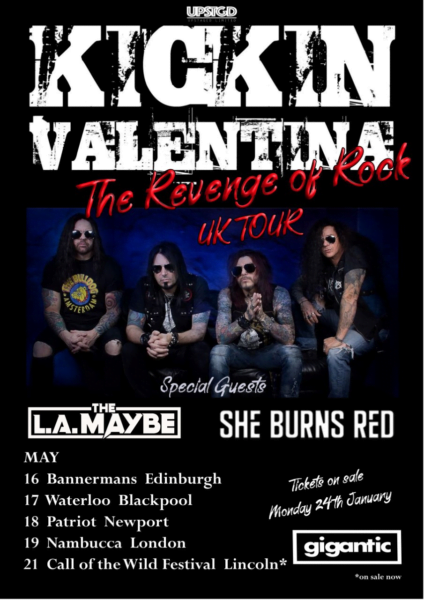 Facebook: https://www.facebook.com/KickinValentina
Website: www.kickinvalentina.com
Twitter: www.twitter.com/KickinValentina