Jim Kirkpatrick, best known for being guitarist in FM, also Rhino's Revenge and Bernie Marsden returns to his solo work with new single 'Ballad Of A Prodigal Son', a taster for a twelve track album of the same name to be released on Sept. 4th 2020.
He says that the single is partly about his return to solo work since his 2006 album Changed Priorities. Currently available on Spotify, Apple Music and Amazon, the single has its merit proven by making track of the week on the Classic Rock poll.
Of course Jim handles guitar duties as well as lead vocals and percussion. He's backed by Scott Ralph on drums, Chris Cliff on bass guitar and Jem Davis on keyboards. Stratospheric strat work throughout from biting riffs and air guitar inducing solos are backed by a gritty lead vocal.
Heart on sleeve choruses are " Now I'm back in town do you remember my name? Now I'm back in town do I still look the same? If you wanna hear my story I'll tell you the one. All about my life in the ballad of a prodigal son.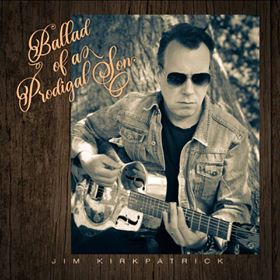 A tasty appetizer for Jim's forthcoming solo album of the same name.