Blues powerhouse Jared James Nichols brings his UK Headline tour with special guests DeWolff and Silveroller to Bradford's Nightrain in support of his new self-titled album.
If you want blues rock and roll in all of its guises, then tonight you got it. The Netherlands brings its own psychedelic formula in the form of DeWolff and Liverpool's own Silveroller brings the groove.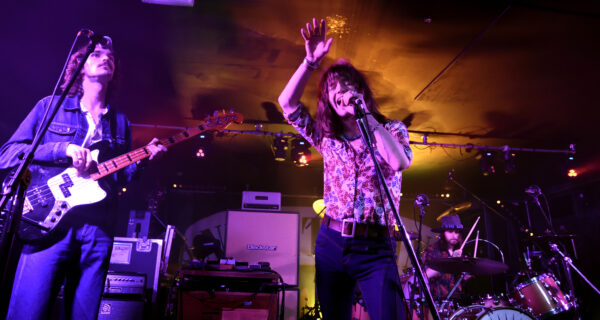 Silveroller is making waves with their debut single 'Hold' and with only time for five songs the liverbirds don't waste a minute. From the moment they take to the stage, dressed in flamboyant 70s flares and shirts that you've probably seen in the family photo album of your grandparent's era. Bassist, Jake Kames Cornes, reminds me of 'Stillwaters singer Russel Hammond' from the rock film 'Almost Famous'. Aaron Keylock is an aspiring Blues guitarist in his own right and now with his new fellow band members, they are making their own invasion with their high-octane-blues-rock and roll.
Singer Jonnie Hodson wows the crowd with his enthusiasm, he makes the perfect Silveroller frontman. The band even has a crowd following, with their supporters dressed alike in 70's gear. Silveroller are definitely a band on the rise to watch out for.
Jonnie Hodson-Vocals
Aaron Keylock-Guitar
Joe Major–Drums
Ross Munro–Organ
Jake James Cornes-Bass
 
Silveroller – links: https://www.facebook.com/SilverollerBand/|https://www.instagram.com/silverollerband/|https://twitter.com/SilverollerBand |https://www.tiktok.com/@silverollerband |https://linktr.ee/silveroller
More photos here – https://flic.kr/s/aHBqjAYAdQ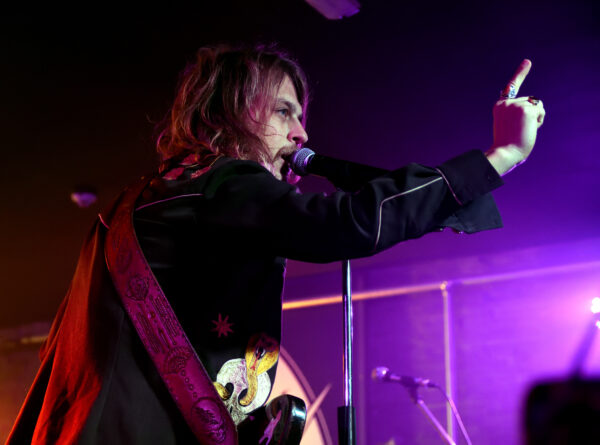 DeWolff was formed in 2007 by brothers Pablo and Luka van de Poel and Robin Piso in the deep south of the Netherlands, and this is their first proper UK Tour. Opening their set with the aptly named 'Nightrain', from their latest album 'Love, Death & In Between'. Nightrian sets the ball rolling as singer, Pablo muses 'We are in the Nightrain club, and our song is actually called the same', 'Are you ready for the Nightrain?' 'Yes, comes the audience's reply. Psychedelic, muddy blues rocket through the venue on this juggernaut of a number. The energy reminds me of Tina Turner's 'Nutbush City Limits'.
The smooth-paced beat of 'Will o' The Wisp' is laden with classic blues, from Pablo's intoxicating vocals to the blend of Robins, Wurlitzer keys playing, along with Pablo's ping-pluck guitaring. Drummer Luka's style is akin to John Densmore, think 'Riders on The Storm', (The Doors). A crescendo wave of sultry blues-rock washes over you.
Not knowing any of their songs before tonight, and as the band has been going for 17 years they didn't have a set list to reference but DeWolff delivered a phenomenal set. With their blend of Allman Brothers meets Aerosmith with Gary Moore licks and grooves, I'm sure they gained a few new members of the Wolff pack tonight.
Be sure to catch DeWolff, who return to the UK next year on their Headline tour – dates below.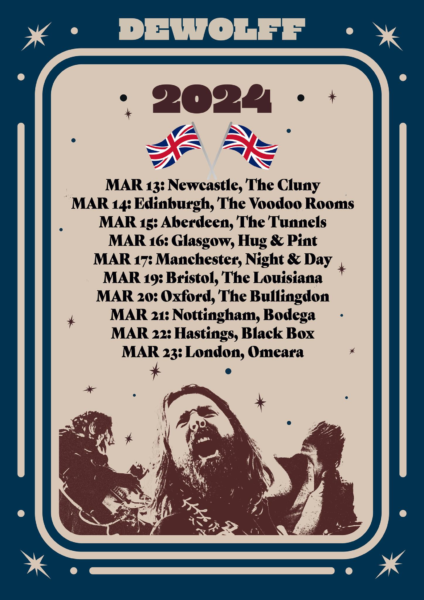 DeWolff is Pablo van de Poel, Guitar & vocals – Robin Piso, Keys – Luka van de Poel, Drums & vocals.
DeWolffOnline: https://www.dewolff.nu/|https://www.facebook.com/dewolfficial|https://twitter.com/dewolffmusic|https://www.instagram.com/dewolfficial/
More photos here – https://flic.kr/s/aHBqjAYAdQ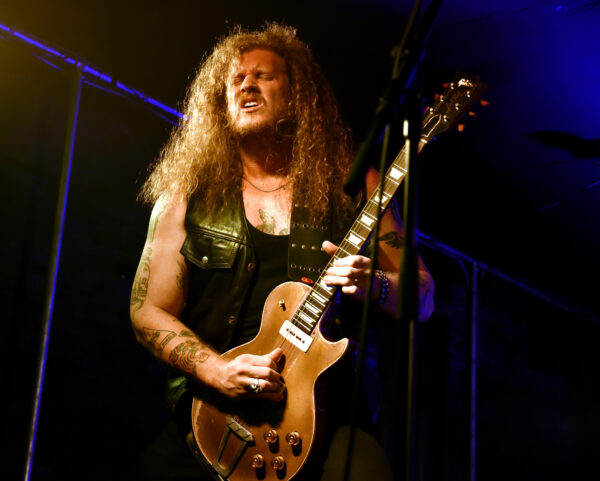 Jared James Nichols
American blues-power maestro guitarist Jared James Nichols is making the most of his time in West Yorkshire. Having just done a meet and greet at PMT in Leeds, to showcase his upcoming signature 'Blues Power' Epiphone Les Paul and have a jam with some lucky fans.
'Easy Come Easy Go' is the gritty opener and his last single released earlier this year from his self-titled album. Going hell for leather Jared lays down lick after lick. Nichols has a power stance of James Hetfield and as much gusto! I'm fascinated by this blues-rocker, as it is not what I was expecting. With Meaty riffs and killer note bends, on 'Down The Drain' Nichols puts the rock into the 'blues' and outpours the 'roll' with his guitar roll-ups and down his fret.
Joined by Louis Collins (bass) and Ryan Rice (drums) this power trio delivers captivating hard-rock blues. The Southern styling of 'Threw Me To The Wolves' has a melodic opener that explodes later with a metal riffing solo. Keeping the similar vain 'Skin N Bones' hones undertones of blues power with over notes of grunge, Nichols's vocals, have a tone of Chris Cornell, on this soaring number.
Nichols has to be one of the happiest performers I've seen on and off the stage, doing what you love shows. There's no 'Bad Roots' on this Black Sabbath-esque song. Powering along, the performance is sensational. The moody 'Shadow Dancer' brings down the guitar pace but there's no let-up in Jared's high-octane performance as he puts the power into his singing.
Nichols is charismatic to his audience and encourages them to see him afterwards for a chat and a selfie. With a hop-skip-and jump, Jared bounces into the sassy 'Good Time Girl' which is very reminiscent of the 80s old school rock and roll, with a lusty blues solo, that the 'Les Paul' was made to do.
The penultimate song, 'Nails In The Coffin' was released in 2019 and I had to do a double listen, as at first I thought it was 'Hozier's – 'Take Me To Church". A very powerful song from Nichols.
Taking a brief encore, Jared James Nichols returns and closes with hell-of-a-cover of Black Sabbath's 'War Pigs'. 'Sabbath, the band that brought us the heavy-laden, heavy metal blues riffs-power!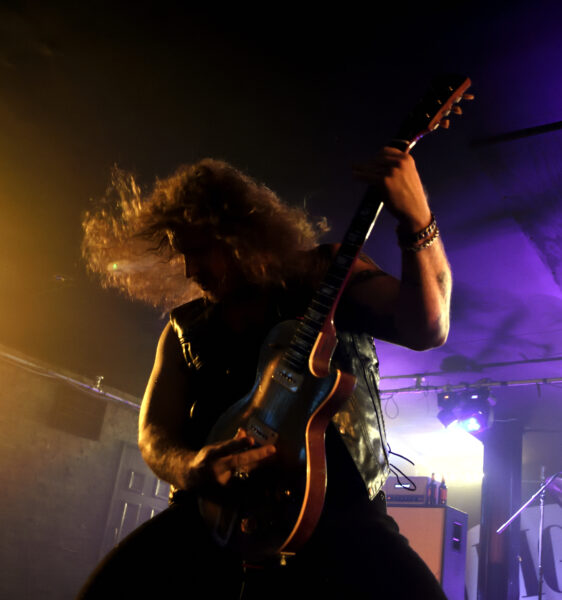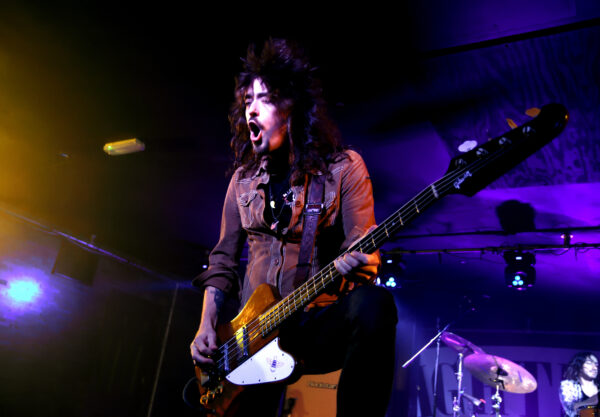 Touring Band – Jared James Nichols – (Guitar/Vocals) – Louis Collins (bass) and Ryan Rice (drums)
Setlist:
Easy Come, Easy Go
My Delusion
Down the Drain
Hard Wired
Threw Me to the Wolves
Skin 'n Bone
Bad Roots
Honey Forgive Me
Shadow Dancer
Good Time Girl
Keep Your Light On
Nails in the Coffin
War Pigs (Black Sabbath) cover
Links: https://www.jaredjamesnichols.com/|https://www.facebook.com/Jaredjamesnichols|https://www.youtube.com/channel/UCzbfeZRfm79klg5WCSlUWXw|https://www.instagram.com/jaredjamesnichols/
Photos and words by Alex English
Venue: Nightrain, Bradford – 14.10.23
More photos here – https://flic.kr/s/aHBqjAYAdQ